The primary steel columns, with connected loops and outriggers, support the secondary steel structure. (Courtesy Populous)
Completed in March 2019, Allianz Field is a 346,000-square-foot soccer stadium located centrally between Minneapolis and St. Paul, Minnesota. The project was executed by Populous, Walter P Moore (WPM), Mortenson Construction, and FabriTec Structures, and it features a facade of woven fiberglass clear-laminated with polytetrafluoroethylene (PTFE)—effectively a tensile membrane capable of shielding the audience from the elements while transmitting twice as much light as other PTFE membranes.
According to the design team, the client initially approached Populous and Walter P Moore to produce a stadium with a translucent facade. The group was aware of a clear PTFE laminate being developed by French manufacturer Saint Gobain—now known as Illuminate 28—and facilitated the shipment of moderately sized samples from the company. These samples were used to construct a 6-by-6-foot mockup with the material to gauge its tensile and lighting qualities. The design and construction of the stadium occurred as the facade material was being developed.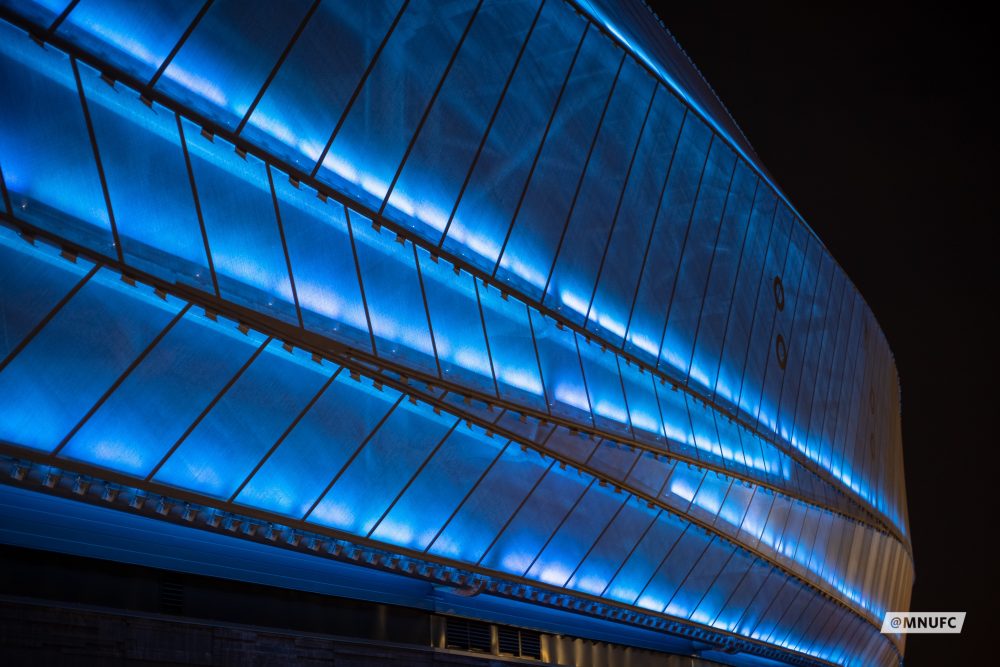 Facade Manufacturer Saint-Gobain
ArchitectsPopulous
Facade Installer Mortensen GC
FabriTec Structures
Facade ConsultantWalter P Moore
LocationSt. Paul, Minnesota
Date of CompletionMarch 2019
System PTFE-coated fiberglass membrane suspended over steel structural system
ProductsIlluminate 28
The enclosure system of the stadium consists of three interconnected layers: the exterior skin of PTFE-laminated fabric, a secondary backup system of steel driver pipes and armatures, and a circular colonnade of steel columns.
In abstract terms, this enclosure system sounds simple enough. However, unlike rigid cladding materials, the tensile strength of fabric is ultimately determined by the 3-D shape it is stretched into. "We never knew if our fabric shapes would work or not from an engineering standpoint until after the design was complete," said Populous associate principal Phil Kolbo. "To achieve the design, Populous and WPM had to set up a cohesive process that could design, test, and modify the supporting steel quickly and iteratively to satisfy both the design and engineering requirements of the skin."
In total, over 90,000 square feet of fabric wrap the stadium. Due to budget constraints, the design team had to maximize the spans between structural components. Utilizing Rhino and Grasshopper 3-D imaging software programs, WPM created nearly 50,000 analysis elements to locate sites where the fabric was overstressed. This information was then exported from Rhino to Tekla software and delivered to the steel fabricator.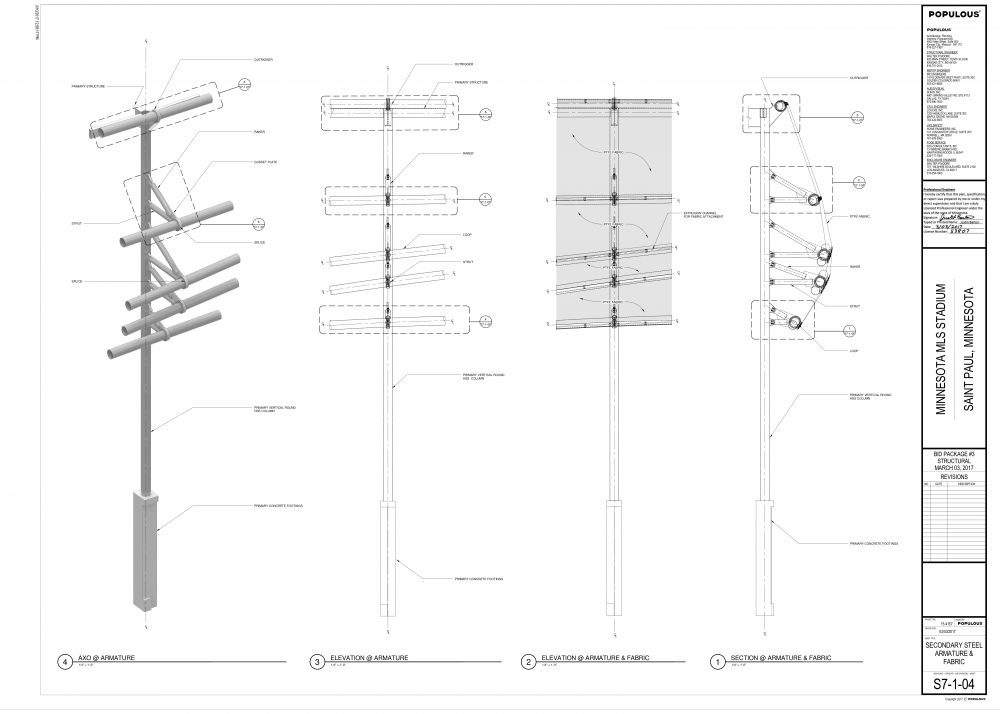 "Once we had a fabric and driver pipe design, then it was supporting the process throughout getting the owner, Mortenson, and FabriTec comfortable with the material and construction process," said Walter P Moore principal Justin Barton. "It started in February 2016 and went all the way through FabriTec's final installation and punch list in late 2018, nearly 24 months of continual conversation."
Populous Associate Principal Phil Kolbo, Walter P Moore Project Manager Justin Barton, Mortenson GC Project Engineer Nate Weingart, and FabriTec Structures Executive Vice President Tom Wuerch, will be joining the panel "Stadium Rising: The Complexities of Allianz Field's Woven PTFE Facade" at The Architect's Newspaper's upcoming Facades+ Minneapolis conference on July 24.