Anishinaabe artist Que Rock and artist Alexander Bacon were commissioned to create a 295-foot-long mural on the south wall of the Jean Lamb Public and Bishop MacDonnell Catholic schools. (Michael Muraz/Courtesy ZAS Architects + Interiors)
Situated in downtown Toronto's sprawling CityPlace residential district, Canoe Landing Campus is a mixed-use complex that brings life and a spot of color to a 3.3-acre lot that had sat empty for years. The $65 million, 158,893-square-foot compound introduces vertical community in a drastically different manner than the tall, blue-gray towers that have dominated the neighborhood since the late-1980s.
Following the line of sight to the top of the campus's trio of two- and three-story buildings, its layered program is simply communicated: public space and amenities on the street level become dense vegetation while a basketball court covers the roofs of one building. The designers at ZAS Architects + Interiors—a Canadian firm with offices in Toronto, Vancouver, and Dubai—worked closely with residents and city officials to meet the many requirements demanded of a major public building. The site boasts two schools, a childcare center, public and private parks, fitness facilities, a public art plaza, a mural by Alexander Bacon and local Anishinaabe artist Que Rock, and more.
Facade
Manufacturer
Acosta
Architect


IwamotoScott

Structural Engineer
Hohbach-Lewin
Facade Consultant


Tipping Structural Engineer

Construction Manager


Plant Construction

Location
San Francisco
Date of
Completion


January 2020

System
Twisting anodized metal fins
"Ultimately, the way the world approaches community space is forever changed. Now, more than ever, physical space must foster meaningful human connection while also remaining flexible to support communities with evolving hybrid and virtual needs for years to come," said Peter Duckworth-Pilkington, principal as ZAS.
The three L-shaped buildings at Canoe Landing Campus are clad in Alpolic aluminum composite panels (ACP). The 6mm ACP wall system is affixed to the structure by an extruded aluminum sub-grit system with light-gage steel Z grits with fiberglass thermally broken brackets. The architects worked closely with the facade installer, GACE, and the general contractors, Atlas Corporation and Buttcon Limited, to ensure there were minimal challenges in achieving the thermal performance desired. A stop-sign red stripe is occasionally spersed along one side of windows in the system, which contrasts with the more flat, gray aluminum facade panels. The facade was fully modeled in Revit BIM, fabricated by CNC machine, and installed in six months.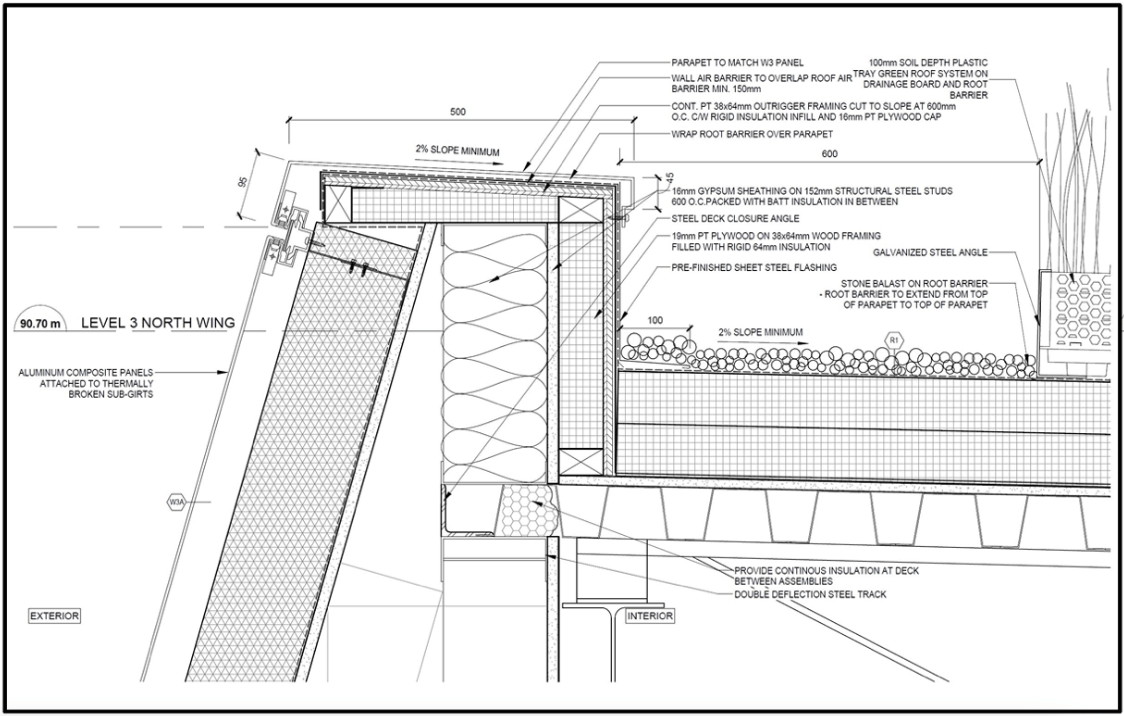 The high-rise residential towers that loom over the site led the design team to consider the roofs of all three buildings as a "fifth facade" from the beginning. This realization led to an extensive green roof planted with sedums, wild meadow, and grass that is visible to neighboring eyes from above as well as from pedestrians on the street.
Additional requests from residents during the consultation process further underlined the importance of green space in an area dominated of concrete and glass. As the green roof evolved from a pleasing backdrop to a space for active community use and habitat for native species, visual connections were created by wrapping the roof down the vertical elevations of the building. Rooftop solar panels provide five percent of the building's total energy.
"With this attention paid to the design of the roof it became important that the roof features be recognizable from the ground," said Duckworth-Pilkington. "The exposure of the green elements were particularly important along the south elevations both for solar exposure but also to tell the story of this new community facility to a busy expressway running to the south of the site. To achieve the transitioning of the green and solar panels roof elements between the horizontal to the vertical required detailed consideration of water, ice and snow shedding, thermally broken structural supports, and wind effects."