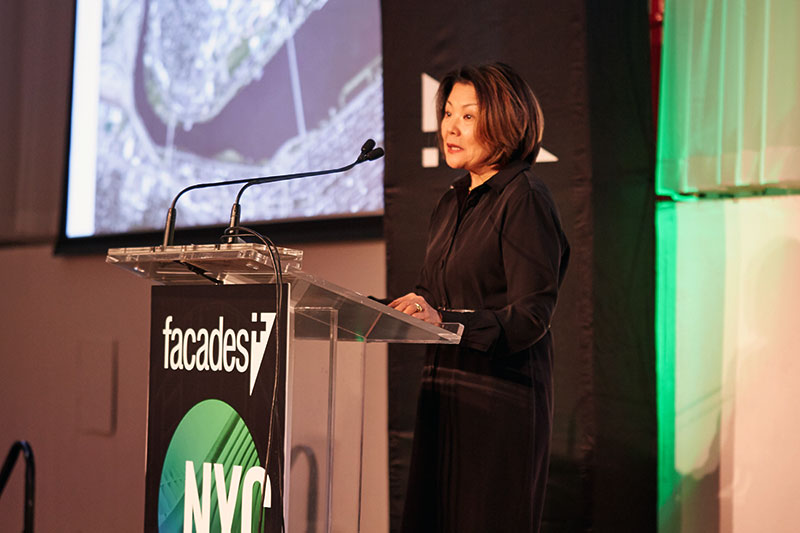 DAY 1
Metropolitan West, 639 W 46th St.
SYMPOSIUM + Methods+Materials Sponsor Gallery
Attend a full day of stimulating presentations and panels that examines the fast-paced evolution of facade technology.
Address new perspectives on building skins, and explores innovative, sustainable design practices.
Symposium Agenda
7:30-8:30am

Check-in & Breakfast | Methods+Materials Gallery
8:30-8:40am

Welcome

Diana Darling

Publisher

John Cetra

Founding Principal
8:40-8:45am

Platinum Presenting Partner Welcome
8:45-8:55am

Civic Perspective

Omar Toro-Vaca

Senior Vice President, Real Estate
8:55-9:50am

Opening Keynote: The Many Expressions

Facades today express themselves in a dynamic way; architecturally through the spatial experience, culturally through image-making and technically through building performance. Join Ben van Berkel as he explores the cultural, technical and transformational power of performative facades.

Ben van Berkel

Founder
9:50-10:35am

Materiality & Fabrication: Bespoke Facade Solutions

Mesh, GFRC and translucent marble envelope new performing and cultural centers on both coasts. We explore facades of uncommon materials in unexpected applications, with REX's Perelman WTC Center and OMA's Aurdrey Irmas Pavilion, among other case studies.

Joshua Ramus

Founding Principal

Shohei Shigematsu

Partner / Director

MODERATOR Theresa Genovese

Principal
10:35-10:45am

Methods+Materials SPONSORED BY

Travis Conrad

Architectural Consultant
10:45-11:15am

Networking Break | Methods+Materials Gallery
11:15-11:45am

Firm Spotlight: Reiser+Umemoto

Jesse Reiser and Nanako Umemoto

Founding, Principals
11:45am-12:45pm

Scaling up Passive House | For the Greater Good

Architects and consultants create large-scale affordable housing in NYC, hewing to Passive House standards. Dattner's Grand Concourse project of 277 units and Handel's Sendero Verde mixed-use, multi building projects will be detailed. Passive House consultants Steven Winter Assoc. joins the discussion.
12:45-12:55pm

Methods+Materials SPONSORED BY

Derick Clutchey

NE Region General Manager
12:55-1:40pm

Complimentary Networking Lunch | Methods+Materials Gallery
1:40-1:45pm

Remarks by Diana Darling
1:45-2:30pm

Afternoon Keynote: The Secret Life of Projects

By understanding the conditions that create projects, the role of architectural methods and techniques can be understood in its larger context. Sustainable, resilient, adaptable are all terms in search of projects. In creating the need for something to be built, planning the making of architecture is the beginning of making change. The design process that takes place elicits changes over time and space. With these tenets in mind, the process of design can provide opportunity for the public life of cities. The importance of situating the meaning of the "project" and incorporating a sense of generosity, connection and playfulness, while optimizing for environmental quality, is WXY's approach to building whether it be inside or outside.

Claire Weisz

Principal-in-Charge
2:30-3:30pm

Optimizing the Form

Zoning and site constraints provide opportunities for creative optimizations of massing and geometry, increasing views, reining in sunlight, and having a positive impact on the site. Case studies include Studio Gang's Solar Carve and Cetra Ruddy's ARO.
3:30-3:40pm

Methods+Materials SPONSORED BY

Bob Zhang

Sales Director
3:40-3:45pm

Afternoon Remarks | YKK

Jamilla Walcott

Director of Marketing
3:45-4:15pm

Networking Break | Methods+Materials Gallery
4:15-5:15pm

Adaptive Reuse Challenges in NYC Historic Icons

Meeting technical challenges in preserving Landmarked facades, two firms create respectful but purposefully non-contextual, glittering glass updates to an 1898 sugar factory (10 Jay St. in Dumbo) and 1929's historic Tammany Hall in Union Square.
5:15-5:30pm

Closing Remarks - John Cetra, Diana Darling
5:30-7:00pm

Cocktail Reception | Methods+Materials Gallery. Hosted by Centria

Thank you to Walter P Moore for hosting the Kickoff Cocktails at HG Stones showroom.