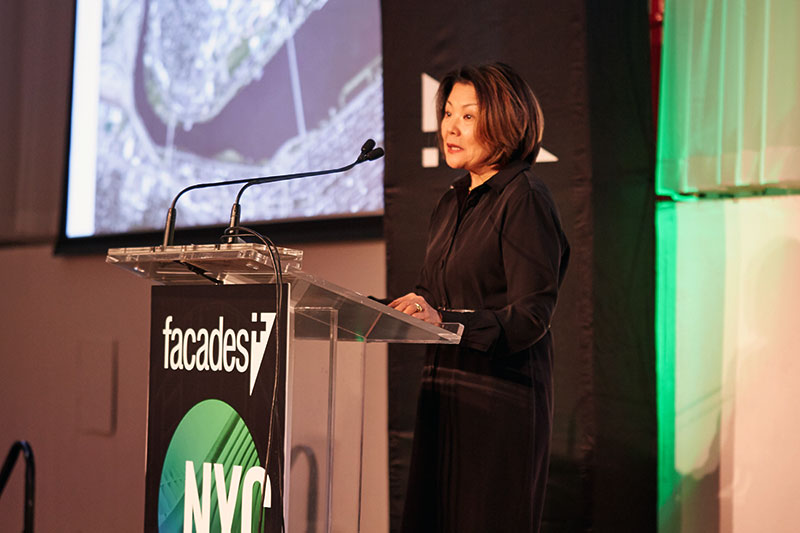 DAY 1 – 8 CEUs
Metropolitan Pavilion, 125 W 18th St.
SYMPOSIUM + Methods+Materials Sponsor Gallery
Attend a full day of stimulating presentations and panels that examines the fast-paced evolution of facade technology.
Address new perspectives on building skins, and explores innovative, sustainable design practices.
Symposium Agenda
7:45-8:25am

Check-in & Breakfast | Methods+Materials Gallery
8:35-8:40am

Welcome

Diana Darling

Publisher

John Cetra

Founding Principal
8:40-8:50am

Civic Perspective

Suri Kasirer

President
8:50-9:45am

Opening Keynote

Moderator: Matt Shaw

Ben van Berkel

Founder

Matt Shaw

Executive Editor
9:45-10:35am

Materiality & Fabrication: Bespoke Facade Solutions

These three panelists literally think out of the box, collaborating to meet challenging design problems with bespoke and streamlined solutions, using digital fabrication and unique materials ranging from metal mesh systems, composites like GFRC and lightweight FRP cladding, to aluminum and concrete panels.
10:35-10:45am

Methods+Materials SPONSORED BY

Travis Conrad

Architectural Consultant
10:45-11:15am

Networking Break | Methods+Materials Gallery
11:15-11:45am

Firm Spotlight: Reiser + Umemoto

Jesse Reiser and Nanako Umemoto

Founding, Principals
11:45am-12:35pm

Scaling up Passive House | For the Greater Good

Architects and consultants create large-scale affordable housing in NYC, hewing to Passive House standards. Dattner's Grand Concourse project of 277 units and Handel's Sendero Verde mixed-use, multi building projects will be detailed. Passive House consultants Steven Winter Assoc. joins the discussion.

Gary Handel

Managing Partner

Lois Arena

Director

John Woelfling

Principal
12:35-12:45pm

Methods+Materials SPONSORED BY
12:45-1:30pm

Complimentary Networking Lunch | Methods+Materials Gallery
1:30-1:35pm

Remarks by Diana Darling
1:35-2:30pm

Afternoon Keynote

Claire Weisz

Principal-in-Charge
2:30-3:25pm

Optimizing the Form

Zoning and site constraints provide opportunities for creative optimizations of massing and geometry, increasing views, reining in sunlight, and having a positive impact on the site. Case studies include Studio Gang's Solar Carve and Cetra Ruddy's ARO.
3:25-3:35pm

Methods+Materials SPONSORED BY
3:35-3:40pm

Remarks | YKK
3:40-4:10pm

Networking Break | Methods+Materials Gallery
4:10-5:05pm

Adaptive Reuse Challenges in NYC Historic Icons

Meeting technical challenges in preserving Landmarked facades, two firms create respectful but purposefully non-contextual, glittering glass updates to an 1898 sugar factory and 1929's historic Tammany Hall.
5:05-5:15pm

Closing Remarks - John Cetra, Diana Darling
5:15-7:00pm

Cocktail Reception | Methods+Materials Gallery