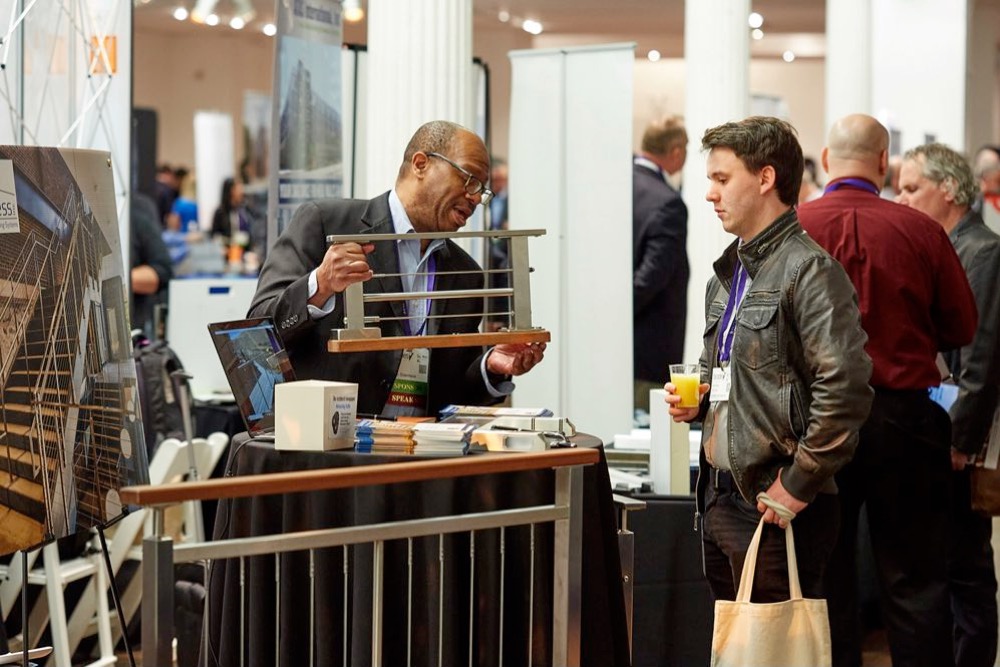 DAY 2
New York Law School, 185 West Broadway
WORKSHOPS – 8 AIA HSW or CEUs
In-depth dialog with leading architects, fabricators, developers and engineers
Facades+ workshops feature an intimate class size and hands-on learning to create an environment conductive to innovation and creative problem-solving. Learn crucial skills & tools to advance your practice.
Workshop Schedule
8:00-9:00am - Check-in & Coffee
9:00am - Morning Workshops Begin Promptly
11am - Networking & Refreshment Break
11:30am - Morning Workshops Resumes
12:30pm - Complimentary Networking Lunch
1:15pm - Afternoon Workshops Begin
3:15pm - Networking and Refreshment Break
3:35pm - Afternoon Workshops Continue
5:00pm - Workshops End
Pick a Morning and Afternoon Session to Best Match your Interests and earn up to 8 AIA CEUS.
Meals are included for this full day of learning with the AEC Industry's Best.
Morning Session
(Choose one from the following)
Earn 4 CEUs
A. Materials, Systems & Applications
4 AIA CEUs
Sessions bring together leading manufacturers who are driving materials and design research. This session will offer three 1-hr deep-dives into the material, applications, and product innovations from a select group of our Methods+Materials Exhibitors.
POWERED BY

Perimeter Fire Barrier Systems for Today's Hybrid Window Wall Designs

Eric Lacroix, STI Firestop
B. Preservation : Strategies for Building Restoration
Instructor: Cheryl Saldanha, SGH
Instructor: Susan Knack-Brown, SGH
C. Glass Design and Avoiding Catastrophic Failures: Design Choices, Practical Solutions, and Complex Engineering
Instructor: Richard Green, Green Facades
D. Systems Dive: Design to Completion of Speciality Enclosures
Instructor: Craig Copeland, Pelli Clarke Pelli
Instructor: Jimmy Chang, Pelli Clarke Pelli
Instructor: Kristin Hopkins-Clegg, Pelli Clarke Pelli
Instructor: Ryan Cramer, Buro Ehring
Instructor: Holger Schulze-Ehring, Buro Ehring
E. Facades As Filters: Breaking the Barrier
Instructor: John Ivanoff, BuroHappold Engineering
Instructor: Emir A. Pekdemir, BuroHappold Engineering
F. Textured Facades: Approaches to Metal Enclosure Systems
Instructor: Mike P. McGrath, MG McGrath
Instructor: Lee Pepin, MG McGrath
Instructor: Yushiro Okamoto , DS+R
Instructor: Holly Chacon, DS+R
G. Topology Optimization: Expanding Geometric Possibilities
Instructor: Heath May, HKS LINE
Instructor: Timothy Logan, HKS LINE
Instructor: James Warton, HKS LINE
Afternoon Session
(Choose one from the following)
Earn 4 CEUs
H. High-Performance Enclosures Through Automatizing Design: Comfort, Performance and Metrics
Instructor: Neil Katz, SOM
Instructor: Ruben Cabanillas Ramos, SOM
Instructor: Richard Aeck, SOM
I. Advanced Envelope Detailing
Instructor: Chris O'Hara, Studio NYL
Instructor: Will Babbington, Studio NYL
Instructor: Stan Su, Morphosis
Instructor: Brad Prestbo, Sasaki
J. Navigating Complex and Mega Projects: Project Collaboration Strategies from Concept to Construction
Instructor: Gustav Fagerstrom , Walter P Moore
Instructor: Sanjeev Tankha, Walter P Moore
Instructor: Kais Al Rawi, Walter P Moore
K. "New" New York City — Energy & Carbon Requirements: How They Impact our Buildings
Instructor: Adrian Tuluca, Vidaris
Instructor: Peter Arbour, Vidaris
L. Old Meets New: The Use of Masonry in Contemporary Build
Instructor: Todd Poisson , BKSK
Instructor: Pat Conway, International Masonry Institute
Instructor: David Lievre, Local 1 Bricklayers and Allied Craftworkers
M. The Residential Wall: Cladding Solutions for Homes
Instructor: Nilay Oza, Oza Sabbeth
Instructor: Peter Sabbeth, Oza Sabbeth
Instructor: Michael Cotton, Snohetta
N. Repurposing Buildings Through Facade Re-Clad
Instructor: Russ Newbold, Surface Design Group
Instructor: Molly Forr, Surface Design Group
Instructor: Benson Gillespie, Surface Design Group