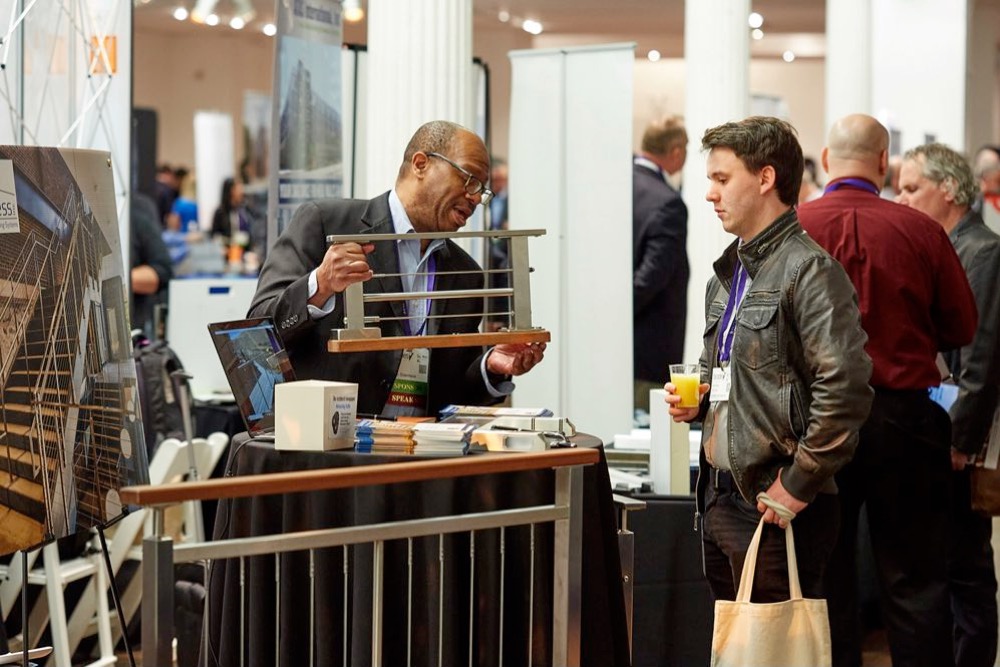 DAY 2
Held virtually on Zoom, participants will engage with the industry's leading design professionals in an intimate, virtual seminar-style setting. Attendees will be encouraged to join in the workshop by sharing their audio and video. Select between three tracks for the day: Envelope Detailing, Sustainability, or Adaptive Reuse.
Pick one of the following tracks and earn up to 8 AIA HSW LU.
Credit type: 1 AIA/CES HSW
Provider: Cosentino
Instructor: Natasha Appel, Associate AIA, LEED BD+C, Regional Façade Manager
Modern construction has come to understand that a facade, as part of an overall building envelope, is not only a visual statement, but also an important influencer in the protection of a wall's structural components, the energy efficiency of the building, and the health of its occupants. This course explores a unique surfacing material known as ultracompact surfacing (UCS) and evaluates its mechanical properties, technical characteristics, and aesthetics to illustrate its endless design potential in exterior cladding, facade, and rainscreen applications.
Learning Objectives
Define ultracompact surfacing and discuss the innovative production process that creates stone-like properties which contribute to project longevity and lower maintenance
Discuss designing with ultracompact surfaces in terms of color, texture, format, general design flexibility, and various applications for both interior and exterior
Identify the traits and advantages of ultracompact surfaces in terms of strength, durability, UV resistance, absorption rates, abrasion resistance, and ASTM testing.
Discuss proper rainscreen design and installation using ultracompact surfacing material.
Advanced Facade Detailing
INSTRUCTORS
Chris O'Hara, Studio NYL
Bradford Prestbo, Place Tailor
Stan Su, Morphosis
Most facades and enclosures perform well within the field of the system. However, failures typically occur where systems meet, at penetrations, projections, and at geometry changes. This workshop will begin with a primer on critical detailing concepts presented by our group of enclosure experts, and then will transition to demonstrate how these concepts can be incorporated into your work with a variety of examples. This workshop represents an evolution of the successful Advanced Detailing Workshop presented previously at Facades+ NYC to focus on more contemporary and challenging details.
Designing Glass to its Full Potential – How and Why the Rules have Changed
INSTRUCTORS
Richard Green, Green Facades
Charles Berman, DS+R
What limits us from heroic glass design? Are we sure that we have made good choices for all our glass? When does size and utilization of glass become so different to what we were using 20 years ago that the conventional rules of thumb no longer apply? How do we design to avoid disaster? Charles Berman, of Diller Scoffidio + Renfro, will present examples of the practice's use of glass to discuss architect's ambitions for glass in consideration of the realities introduced by glass as a robust engineered composite product. Richard Green will present developments embodied in drafting the ASTM Standard for Structural Use of Glass, which provides a framework for specification by architects and design by engineers to balance cost, risk and reliability with appropriately controlled post-damage outcomes.
Richard will describe the technical development and testing regimen for the project relating the principles of the draft standard and how they were implemented. The study contrasts replacing the glass technology of 1962 with the most current glass technology and how the design decisions have changed. This session is a must for architects and engineers going beyond designing windows and utilizing the potential of glass.
Credit type: 1 HSW AIA
Provider: SYSTEA
Instructor: Nolan Day, Sales Representative
Provides an insight into high-performance metal subframe systems and how they relate to back ventilate facades and rainscreen systems in terms of their performance, available options and benefits, as well as a discussion of fire safety and design possibilities.
Learning Objectives
Describe the function of high-performance metal subframe systems
Differentiate the different metal subframe system options and their benefits as well as their limits
List the components of a ventilated rainscreen system, identify how each contributes to a reliable thermal performance, resulting in reduced energy consumption
Summarize the test standards met by high performing back ventilated facades
Life Cycle Assessment: Level up Low-Carbon Facade Design
INSTRUCTORS
Katherine Chan, Associate, Walter P Moore
Laura Karnath, Senior Associate, Walter P Moore
Join Laura Karnath, AIA and Kat Chan, MSFE for a workshop that will explore how to study and minimize embodied carbon in façade design by leveraging existing tools and databases. This workshop is aimed at both novices and experts alike, from those just starting their learning on Life Cycle Assessment (LCA) tools to those who want to hone in on the impacts of different products' Environmental Product Declarations (EPD). Participants are encouraged to follow along in the step-by-step study, led by Laura and Kat, using the free online LCA tool Embodied Carbon in Construction Calculator (EC3). Be sure to register yourself with EC3 before the workshop date here: https://www.buildingtransparency.org/
Netzero Accelerator Showcase
Join USGBC-LA's Ben Stapleton, Executive Director, and Colin Mangham, Net Zero Accelerator Director, as they showcase select companies from the Net Zero Accelerator (NZA) 2021 Cohort. Company founders will present how they are solving for IAQ, energy efficiency, waste management, decarbonization and more both inside and outside the building envelope. These thought leaders and change makers are now seeking pilot opportunities from our community to help them and, by extension all of us, speed ahead occupant health, building decarbonization, clean construction, and systems-level change to create circular economies in the built environment.
INSTRUCTORS
Ben Stapleton, Executive Director, USGBC-LA
Colin Mangham, Director, USGBC-LA
Credit type: 1 HSW AIA
Provider: STI Firestop
Instructor: Mike Zanotelli
Today's high-performance building enclosures demand high performance fire protection! The development of new "Hybrid Window Wall designs" has created issues on projects throughout North America. Curtain wall consultants and Authorities Having Jurisdiction (AHJ's) are requiring tested firestop solutions for this growing wall type. Fully understanding the role and value of perimeter fire barrier systems in today's ever changing and complex designs cannot be overstated. As the industry changes almost on a monthly basis, understanding how to maintain the integrity of a non-rated hybrid window wall system for up to 2 hours is critical in the design phase to eliminate costly changes, delays, and compromised life safety requirements during construction. Key topics are outlined below and will be discussed in detail incorporating PowerPoint & video.
Learning Objectives
Understanding the issues and concerns of new Hybrid Window Wall designs
Importance of testing for Hybrid Window Wall designs

Understanding ASTM E2307 and the Intermediate Scale Multi-Story Test Apparatus
Understanding the sequencing and installation of tested solutions
Documenting the performance of a successful perimeter fire barrier test

Common misconceptions about Hybrid Window Wall designs
Automated building performance analysis and value addition for AEC professionals.
INSTRUCTORS
Nilesh Bansal, Director of Sustainability, Covetool
Twisha Raja, Computational Designer, Covetool
Udiksha Kapini, BIM Specialist, Covetool
This workshop is structured in 3 parts:
Part one discusses the importance of building performance analysis and introduce the attendees to cove.tool, a web based, wholistic and automated building performance analysis software.
Part two is hands-on training where the attendees create their own project on cove.tool and experience how they can use the platform to get rapid feedback on their designs and be able to make empirical design decisions.
Part three would be a continuation of the hands-on training, finishing the analysis, exporting an automated report and a Q and A session.
At the end of the workshop attendees would be able to conduct several building performance analysis on their projects, be able to create baseline energy models and optimize their projects for cost and energy. Note: The workshop doesn't need any prior building sciences knowledge to be able to successfully participate. It covers several topics that would be beneficial to a broad range of users with little or no experience to sustainability specialists. We would provide cove.tool access to all the attendees for the day and would need a list of all participants names and emails to activate their licenses (company email, official email or .edu emails are accepted, gmail addresses are not accepted in the platform). In addition, we'll provide dimensions for a sample building model that we'll be creating during the workshop.