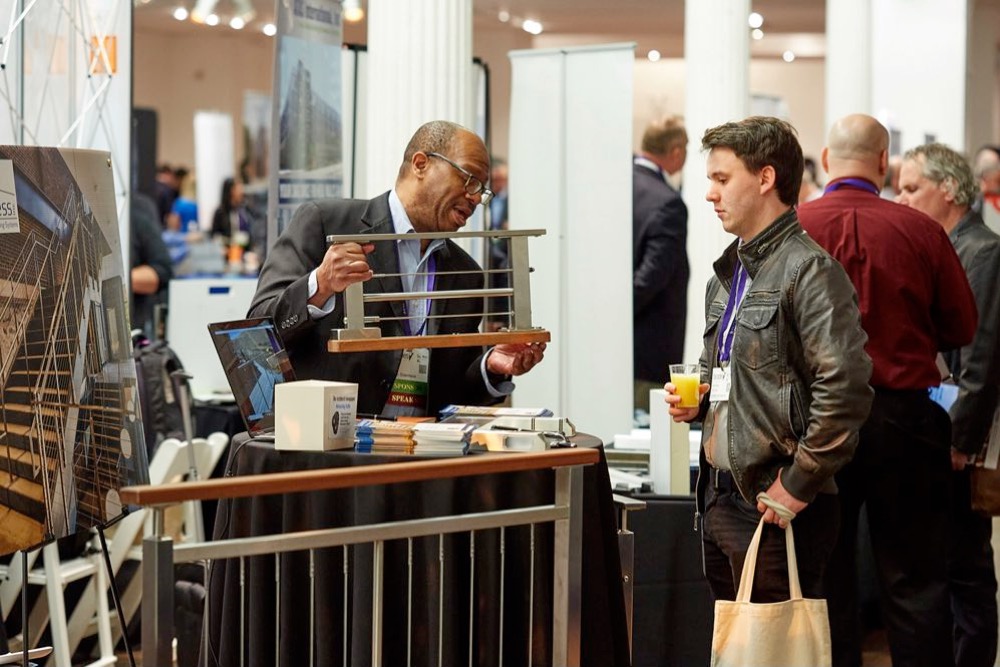 DAY 2
Held virtually on Zoom, participants will engage with the industry's leading design professionals in an intimate, virtual seminar-style setting. Attendees will be encouraged to join in the workshop by sharing their audio and video. Select between three tracks for the day: Envelope Detailing, Sustainability, or Adaptive Reuse.
Pick one of the following tracks and earn up to 8 AIA HSW LU.
AGENDA
8:45 - 9:00 AM PT
- Virtual Doors Open
Credit type: 1 AIA/CES HSW
Provider: Cosentino
Instructor: Brendan Mercier, National Façade Manager
Modern construction has come to understand that a façade, as part of an overall building envelope, is not only a visual statement, but also an important influencer in the protection of a wall's structural components, the energy efficiency of the building, and the health of its occupants. This course explores a unique surfacing material known as ultracompact surfacing (UCS) and evaluates its mechanical properties, technical characteristics, and aesthetics to illustrate its endless design potential in exterior cladding, façade, and rainscreen applications.
Learning Objectives
Define ultracompact surfacing and discuss the innovative production process that creates stone-like properties which contribute to project longevity and lower maintenance
Discuss designing with ultracompact surfaces in terms of color, texture, format, general design flexibility, and various applications for both interior and exterior
Identify the traits and advantages of ultracompact surfaces in terms of strength, durability, UV resistance, absorption rates, abrasion resistance, and ASTM testing.
Discuss proper rainscreen design and installation using ultracompact surfacing material.
AGENDA
10:05 AM - 12:05 PM ET
- Workshop 1
12:30 PM - 2:30 PM ET
- Workshop 2
Attendees of the workshop will work in teams of 4 or 5, guided by a rotation of 3 different instruction teams (each with members from PCPA, BuroEhring and Roschmann) to recalibrate key components of one iconic modern shelter or prefab home, selected from a choice of eight. To facilitate the activity, individual Rhino models of each shelter or prefab will be available during the workshop. The teams will identify and adjust key facade elements of the original designs to accommodate changes in context, contemporary energy standards, and ease of assembly.
INSTRUCTORS
Craig Copeland, Pelli Clarke Pelli
Holger Schulze-Ehring, Buro Ehring
Dirk Schulte, Roschmann
9:05 AM - 10:05 AM ET
- Workshop TBA
AGENDA
10:05 AM - 12:05 PM ET
- Workshop 1
12:30 PM - 2:30 PM ET
- Workshop 2
2:40 PM - 4:40 PM ET
- Workshop 3
Credit type: 1 HSW AIA
Provider: STI Firestop
Instructor: Mike Zanotelli
Today's high-performance building enclosures demand high performance fire protection! The development of new "Hybrid Window Wall designs" has created issues on projects throughout North America. Curtain wall consultants and Authorities Having Jurisdiction (AHJ's) are requiring tested firestop solutions for this growing wall type. Fully understanding the role and value of perimeter fire barrier systems in today's ever changing and complex designs cannot be overstated. As the industry changes almost on a monthly basis, understanding how to maintain the integrity of a non-rated hybrid window wall system for up to 2 hours is critical in the design phase to eliminate costly changes, delays, and compromised life safety requirements during construction. Key topics are outlined below and will be discussed in detail incorporating PowerPoint & video.
Learning Objectives
Understanding the issues and concerns of new Hybrid Window Wall designs
Importance of testing for Hybrid Window Wall designs

Understanding ASTM E2307 and the Intermediate Scale Multi-Story Test Apparatus
Understanding the sequencing and installation of tested solutions
Documenting the performance of a successful perimeter fire barrier test

Common misconceptions about Hybrid Window Wall designs
AGENDA
10:05 AM - 12:05 PM ET
- Workshop 1
12:30 PM - 2:30 PM ET
- Workshop 2
2:40 PM- 4:40 PM ET
- Workshop 3