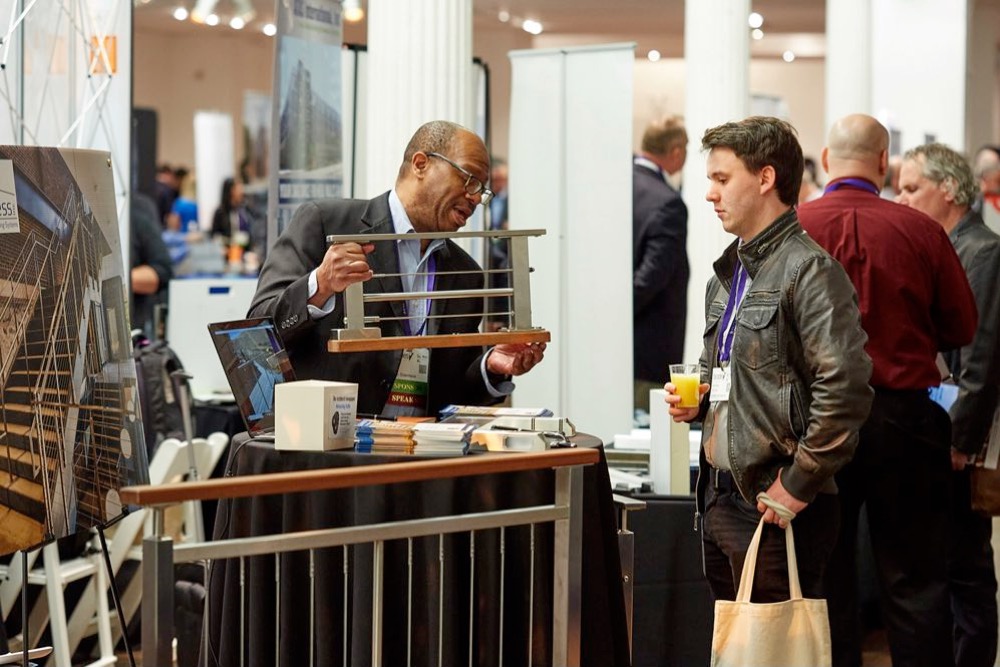 DAY 2
Held virtually on Zoom, participants will engage with the industry's leading design professionals in an intimate, virtual seminar-style setting.
Attendees will be encouraged to join in the workshop by sharing their audio and video. Select between three tracks for the day: Materiality, Sustainability or Complexity
Pick one of the following tracks and earn up to 4 AIA HSW LU.
Credit type: 1.0 AIA HSW
Provider: STI Firestop
This course provides an update on the advancements in perimeter fire containment systems for galvanized backpan assemblies. The value of understanding the performance of galvanized backpan assemblies in today's ever changing complex designs cannot be overstated. By identifying the unique challenges that these assemblies present in the design phase, you can eliminate costly changes, delays, and compromised life safety requirements prior to construction.
Learning Objectives
Define the role and value of perimeter fire containment systems in today's ever changing and complex galvanized backpan assembly designs.
Identify the code requirements for perimeter fire protection.
Describe how galvanized backpan assemblies perform per ASTM E 2307 testing and the importance of independent third-party testing for perimeter fire containment systems.
Recognize the complexity of aluminum framed galvanized backpan designs and how to address them
Brutalism Rebuilt: Reviving UCSD's Humanities & Social Sciences Building
The Health and Social Sciences (HSS) Building on the University of California San Diego's historic Muir College was originally constructed in 1970. Soon after construction, the Brutalist building's precast concrete curtain wall began to fail prompting a series of emergency repair projects over the past fifty years. In 2019 the University determined that a new wall system, designed to match the original in appearance, was required to resolve ongoing life/safety concern and improve performance standards while maintaining the historical integrity of the building. Hear members of the collaborative project team – including the Historic Architect/Conservator, Historic Preservation Planner, Executive Architect, and concrete panel fabricator- as they share design challenges, historic approvals processes, technical solutions, and valuable lessons-learned from the Brutalist façade replacement project.
Adhered Masonry and Seismic Testing: A New Approach
Adhered masonry does not currently meet code. This is because code required inelastic seismic testing does not exist in our industry. Adhered masonry cladding meets a Standard Of Care, but not code. This was confirmed via our Consortium of a dozen architects, structural engineers, enclosure consultants, industry manufacturers, and masonry organizations three years of research. The Consortium set out to test if the cladding system met this seismic code by testing three assemblies on six mockups at a seismic lab in coordination with ASCE-7 committees. The intended audience is any Architect, Structural Engineer, Façade Consultant, Contractor, Owner, Project Manager to know the risks and methodology to reduce that joint risk in using adhered masonry. Testing is to begin summer 2021 and finish Jan 2022. We appreciate IIBEC / RCI being a supporter of this research as it shows the organization's commitment to getting this information out to the industry.
Learning Objectives
Understand why and what the code is requiring of adhered masonry (or any other cladding / glazing system) in resisting inelastic seismic events.
Understand the methodology used to test.
Understand the criteria for the test results and how they were derived.
Understand if adhered masonry meets code and why.
To learn how an Architect can hurt himself in the name of Building Science and get kicked off a Hospital campus all at the same time.
Keywords
Code, Masonry, Seismic, Testing, Cladding, Design, Building Science
Not Your Grandad's Polycarbonate: A Case Study of the Material in a Performing Arts Building
A translucent polycarbonate façade, made of 35% recycled plastic, wraps around an existing building to create a glowing center for the non-profit campus while achieving high levels of durability and sustainability. The Glorya Kaufman Performing Arts Center is a case study of a large-scale deployment of Polycarbonate in a Performing Arts Building. We will discuss the analysis that led to the decision to use polycarbonate, the secondary building systems that enabled the design team to create an asymmetrical façade with a single façade material, the technical detailing and specifications for the materials.
Learning Objectives
Learn about the sustainable benefits a polycarbonate system could provide to your projects
Understand the benefits beyond typical applications of polycarbonate façade systems
Learn the necessary technical requirements for using this type of system
Buildings have differing needs for aesthetics, performance, and functional operations. Few building materials have as great an impact on all three of these areas as glass since it plays a unique and important role in building design and the environment. Glass now plays a critical role in achieving a wide variety of dynamic and varied performance requirements from reducing bird strikes to generating power to minimizing building carbon impacts. Understanding these evolving technologies can help improve building design.
Learning Objectives
Identify the different types of high-performance glass that are available and explain how these products impact occupant health, safety, and sustainability.
Investigate the design potential and innovative opportunities to reduce bird strikes, improve sound attenuation, reduce fire risk, and improve surface cleanliness using advanced glass technologies.
Explain how window retrofit technologies and power generating/dynamic glazing contribute to green and sustainable design in buildings.
Acquire insights into emerging technologies being used to achieve healthier, safer, and more sustainable buildings, beyond achieving performance and aesthetic targets.
Advances in Structural Glass
The presentation explores the different functions of glass systems in tertiary, secondary, and primary structural applications. The redundancy of individual glass sheets will be reviewed in the context of strength and residual stiffness/safety after breakage, and respective code and testing requirements. Glass fabrication will be examined at all stages, including floating, coating, tempering, laminating, and assembling. Case studies will be presented to apply concepts of structural glass design and production to real-world projects.
Learning Objectives
Analyze the properties, structures and strengths of various glass types.
Illustrate an understanding of established design philosophies and explain how they are implemented in current codes of practice.
Identify structural glass applications in primary, secondary and tertiary structures.
Describe how glass reacts to different stressors and the various methods to prevent or mitigate the risk of collapse.
No Half Measures: How a Whole Carbon Perspective Informs Facade Design
Building façades are a major contributor to a building's total carbon footprint, affecting both its energy performance and representing a large proportion of its embodied carbon emissions. These contributions are most often considered separately, which leads to unnecessary tradeoffs and missed opportunities. In this session, representatives from EHDD and KieranTimberlake, the architecture firms behind EPIC and Tally, will describe the interaction between embodied and energy-related emissions, what it means for façade design, and how whole carbon thinking can create actionable strategies for lowering carbon emissions during the design process.
Digital Collaboration and Instant Iteration
Frustrated by loops of rework and wasted time, Perkins & Will envisioned a more collaborative and dynamic feasibility review process for its fabrication and construction partners. A process that would allow more design time and speed up decision. Working with like minded leaders at fabrication partner at Zahner, the two firms invented a shared workspace and feasibility model that produces higher design fidelity, shorter delivery schedules, and more joyful clients and communities. Learn more about this process and how it can be adapted for your work and how process improvements like this can be implemented between many partners for faster, better collaborations.
Learning Objectives
Discuss the difficulties and roadblocks to faster, higher fidelity collaboration between design, fabrication, and construction.
Review a collaboration process between two or more firms using this model
Learn how Apply process improvements to your own firms
Designing and constructing the building envelope has always been one of the most challenging aspects of any building construction project. And today, new buildings need to be more resilient, sustainable, and cost-effective than ever – given the demands the envelope must meet or exceed, achieving the aesthetic vision becomes secondary. This course will focus on how to take advantage of pre-engineered envelope systems to reduce project risk while achieving its aesthetic goals and exploring design options and materials that are cost prohibitive or not constructible with other facade solutions.
Navigating Complexities and Creative Exterior Transformation of Large Facilities
Projects within the Healthcare sector are growing in scale, budget and complexity and the
transformation of existing buildings particularly, requires novel design visions and collaboration
between the design team and construction team. Through the lens of a dramatic transformation of a
large healthcare facility, workshop attendees will get insight into how the creative revitalization could
be achieved in these complex projects. The design and construction team will describe their
envelope design strategies, structural solutions, sustainability approach and construction challenges
that the team was able to overcome in the rejuvenation of an aging 1970's medical office building.
Learning Objectives:
Describe the innovative envelope design strategies that could be implemented in the transformation
of deteriorating existing buildings
Explore structural design solutions for exterior upgrade of concrete structures with post tensions slabs
Understand sustainable design strategies for a new façade on an existing building to meet energy efficiency
codes
Establish best construction practices and lessons learned re-skinning an existing and occupied medical
facility from the 1970's
Learn how to implement Lean culture while performing heavy renovation work on an occupied
healthcare campus
Two Sides to Sustainability & High-performance: The Belardi Family Pavilion at City of Hope
High performance can be defined as "a building that integrates and optimizes all major high-performance building attributes, including energy efficiency, durability, life-cycle performance, and occupant productivity". The term high-performance design typically brings to mind images of a technologically advanced facade and state of the art, energy efficient building systems. Yet durability, life-cycle performance and occupant productivity are equally important attributes of a high-performance building. The Belardi Family Pavilion at City of Hope, which will consolidate campus doctors and their staff, is designed with all these attributes in mind. Situated within a desert landscape, careful consideration is given to the materiality that would ground this project to this Southern California region environmentally and phenomenologically, while also providing a domestic sensibility to the workplace.
This case study will illustrate the evolution of the entire project, from its inception as a Net Zero building, to the current design which is targeting LEED v4 Gold certification. Integral to any successes this project may yield, is the multi-faceted, synchronous design process. A single 3D model serves as the environment in which parametric design evolves simple massing into fully optimized facade into contract documentation. The use of environmental analysis, graphical scripting, daylighting analysis, and real-time visualization temporally co-exist. This dynamic design process allows for rapid development, iteration and validation of high performance concepts as part of this fast track prototype project.
The final design applies aggressive and divergent facade strategies which respond to mitigate or enhance the natural environment. The programmatic and communal goals of the building planning equally influence the exterior appearance of the project and it is this push and pull that is continually informed by analytical process and experiential study. It is this duality that leads to the project's two visual and functional identities, simultaneously echoing high performance and holistic sustainability.