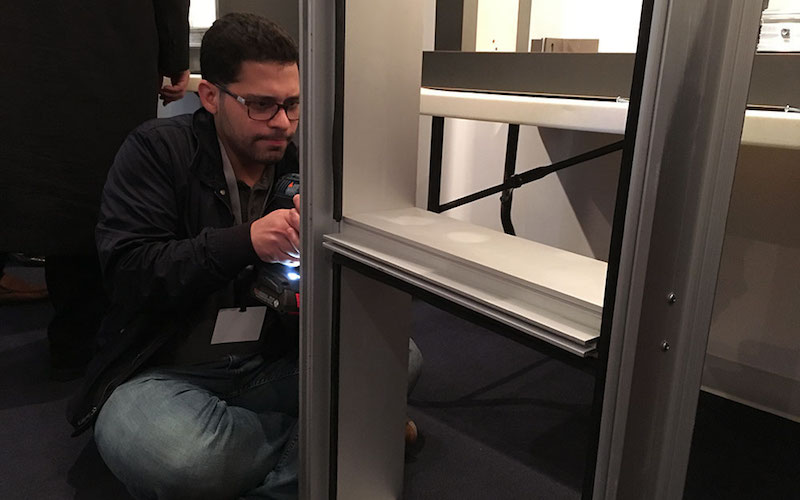 4 CEUs
WORKSHOPS – AIA CEUS
In-depth dialog with leading architects, fabricators, developers and engineers
Facades+ workshops feature an intimate class size and hands-on learning to create an environment conductive to innovation and creative problem-solving. Learn crucial skills & tools to advance your practice.
1:15p, Afternoon Workshops Begin
3:00p, Networking and Refreshment Break
5:00p, Workshops End
Pick a Afternoon Session to Best Match your Interests and earn up to 8 AIA CEUS.
Meals are included for this full day of learning with the AEC Industry's Best.
Sessions (Choose one from the following)
4 AIA CEUs
A. Designing Sustainable Building Envelopes by Thinking Outside the Box
POWERED BY

As the built environment becomes more complex, so too are the systems are used to create them. During this afternoon's topics we will learn from industry experts on how these systems can contribute to a sustainable building envelope, such as firestop systems that ensure occupant's safety, self-cleaning facade panels and smart tinting glass technologies to ensure occupant comfort.
1. Understanding Perimeter Fire Barrier Systems in the Modern Age: Maintaining Integrity in Today's Complex Backpan Designs
Instructor: Eric Lacroix, STI Firestop
Today's high performance building enclosures demand high performance fire protection! Backpan designs create unique challenges that make UL test coverage even more critical! Fully understanding the role and value of perimeter fire barrier systems for backpans in today's ever changing and complex designs cannot be overstated.. As the industry changes almost on a monthly basis, understanding how to maintain the integrity of a non-rated curtain wall system for up to 4 hours is critical in the design phase to eliminate costly changes, delays, and compromised life safety requirements during construction. Key topics are outlined below and will be discussed in detail incorporating PowerPoint & video.
Objectives:
Evolution of code requirements for consistency
Importance of UL testing for backpan designs

Understanding ASTM E2307 and the ISMA
Why UL?

Understanding the complexity of backpan designs
Common misconceptions about steel backpans
2. High-Performance Architectural Coating Systems for Coil and Extrusion Products
Instructor: Shirley Stern, Valspar
This course provides an overview of coil and extrusion building product applications, an introduction to high-performance coating systems for metal building products, and the industry standards and specifications that architects need to know to specify the appropriate coating system for their project.
Objectives:
Understand the differences between the coil and extrusion applications, coating and manufacturing processes.
Identify coatings components and their role in the coating system.
Identify industry standards relative to the performance requirements of coatings for metal building components.
Understand AAMA specifications and specify the best coating for a metal building component or project.
3. The High-Performance Benefits of Laminated Glass
Instructor: Michael Ondrus, Eastman
This course provides an overview of the properties of photocatalytic ceramic tiles including the science, health benefits and applications.
Objectives:
Summarize the chemical process of photocatalytic oxidation and state how this process contributes to keeping surfaces clean and microbefree.
List the properties of PCOs and the environmental and economic factors associated with each property.
Explain how photocatalytic oxidation contributes to enhanced air quality in terms of odor and VOC decomposition, and NOx removal.
Identify the applications and environmental benefits of using PCOs in order to specify them for appropriate projects.
B. Material Matters: Integrated Systems, Performance and Artistry
Instructor: Isaac Campbell, Office 52.
Instructor: Michelle LaFoe, Office 52
Instructor: Jeffrey Huang, Arup
Architecture, art and technology are interrelated in the design process. This interactive workshop will focus on the facility of design in multiple materials through case studies from four different award-winning projects. Each will highlight the integration of diverse envelope systems and materials, how they were designed to meet specific performance criteria, and how the architects integrated artistic elements into the facade to create a unique sense of place. The case studies will include the new LEED gold certified Sherman and Joyce Bowie Scott Hall at Carnegie Mellon University (unitized high-performance curtain wall with custom dichroic glass sunshades and ceramic frit, and an intensive green roof), the LEED platinum certified Yang Yamazaki Environment and Energy Building at Stanford University (precast concrete panels and limestone cladding), the North Terminal at Reagan Washington National Airport (unitized curtainwall with external sunshades and fully integrated art installations), and the new Willie and Donald Tykeson Hall at the University of Oregon (stick-built curtain wall, custom terra cotta rain screen, and custom brick).
C. Advanced Digital Modeling: From Concept to Prototype
Instructor: David Spergel, Microsol Resources
Instructor: Scott Davidson, Robert McNeel and Associates
To be an effective designer today, you need tools to quickly develop your designs and accurately communicate them to all project stakeholders. Join our webinar as we show the Rhino workflow from early design and model exploration to further refinement and documentation using Revit or AutoCAD, using Grasshopper as part of environmental analysis, using V-Ray for Rhino for renderings, and how to use Rhino for 3D printing.
During this workshop, our 3D Application Specialist, David Spergel, will show tips and tricks for a seamless Rhino workflow including the new Rhino 6 features as well as:
Grasshopper, a powerful generative design tool now fully integrated into Rhino, provides a solid foundation for many incredible third-party components ranging from environmental analysis to robotic control.
AutoCAD or Revit Workflows. So you've finished your design in Rhino, but now you need to cleanly integrate it into your Revit project. From a completely reworked annotation-style interface, to better DWG support and Rich Text throughout, it's now easier to convey accurately and clearly the "what" and the "how" of your design.
Boosting the new features of Rhino 6 and creating great-looking renders directly in Rhino using the V-Ray for Rhino tool.
Unique considerations to keep in mind while preparing CAD files for 3D printing using Rhino.
D. Glass Design and Avoiding Catastrophic Failures: Design Choices, Practical Solutions, and Complex Engineering
Instructor: Richard Green, Green Facades