On January 1, 2021, the Daniel Patrick Moynihan Train Hall opened to the public. Designed by Skidmore, Owings & Merrill, this renovation and expansion of the original Pennslyvania Station were urgently needed to accommodate the busiest transportation hub in the Western Hemisphere. The monumental civic project connects the architectural past through adaptive reuse of the existing, nearly abandoned, James A. Farley Building and adds 255,000 square feet to the new modern transportation hub.
Facade ManufacturerSeele
ArchitectSOM
Structural EngineerSchlaich Bergermann Partner
Historic Restoration ConsultantsBuilding Conservation Associates, Inc.
Facade InstallerNicholson & Galloway
Deerpath Construction Group
LocationNew York
Date of CompletionJanuary 21, 2021
SystemCatenary vault skylight
ProductsCustom glass and steel panels
SOM has been involved with this project since 1998 and took careful precautions throughout the years of design iterations to ultimately land on a final result that balances the history of the landmarked Farley Building with something constructed for the commuter logistics of the future. The most striking callback to the grandeur of the original 1910 Penn Station, designed by McKim, Mead & White, are the four catenary vaulted skylights that traverse the entire space. The skylights, designed with structural engineers Schlaich Bergermann Partner, are supported by three massive steel trusses with a box beam above each. SOM restored the trusses – originally concealed in the former mail sorting room of the building – which sit below over 500 steel and glass panels that span the curving skylights. "So that double beam is painted to match the original truss. And it reads is like a very deep top chord. But the skylight is intentionally lifted off of the historic structure. Structurally, it lets the skylight move independently of the building. Visually, it separates the new from the historic architecture and makes it legible to the designers and viewers from below," says Marla Gayle, Director at SOM and expert in transportation and infrastructure planning. "We worked with Schlaich Bergermann to develop a very integrated structural concept, trading 3D BIM models constantly, to get what you see today."  The depth of the panels thickens at the edge of the vault to sustain greater structural loads. They are thinnest at the apex of the catenary, with each vault spanning 92 feet above the concourse.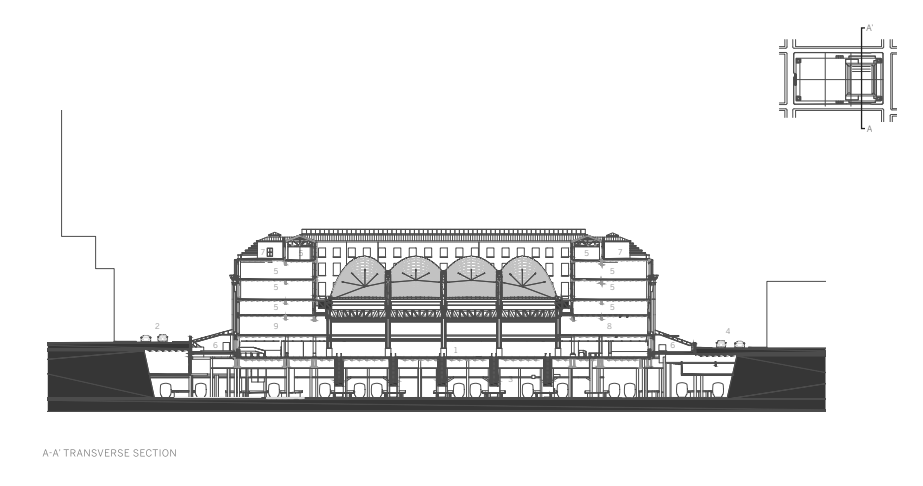 After decades of false starts, SOM's collaboration with Governor Andrew Cuomo's initiatives to improve infrastructure in New York State led to the completion of this monumental civic icon. With only the original plans from McKim, Mead & White SOM stayed innovative in the face of surprises uncovered at every step of the demolition. The skylights themself never interface with the facade or interior brick wall. Instead, a perimeter gutter surrounds them on all four sides with a custom expansion joint to allow the skylights to move independently from the whole building structure while still maintaining a thermal barrier.
In addition to restoring the original trusses, SOM worked with Nicholson & Galloway and Deerpath Construction Corporation to restore and clean the original stone facade of the Farley Building that extends from Eighth to Ninth Avenue and 31st to 33rd Street. All ornamental terracotta work and copper roofing were restored or, where irreparable, replaced in kind. At the entrances, SOM has hung custom metal and glass canopies that were intended to limit signage and celebrate the existing metalwork and windows of Mckim, Mead & White's white stone facade. Marla Gayle elaborates on the relationship between the historic restoration and push for innovative construction: "Very much like the skylight, the exterior canopies are a modern intervention, which is not meant to compete with the historic building, but work in concert with it."