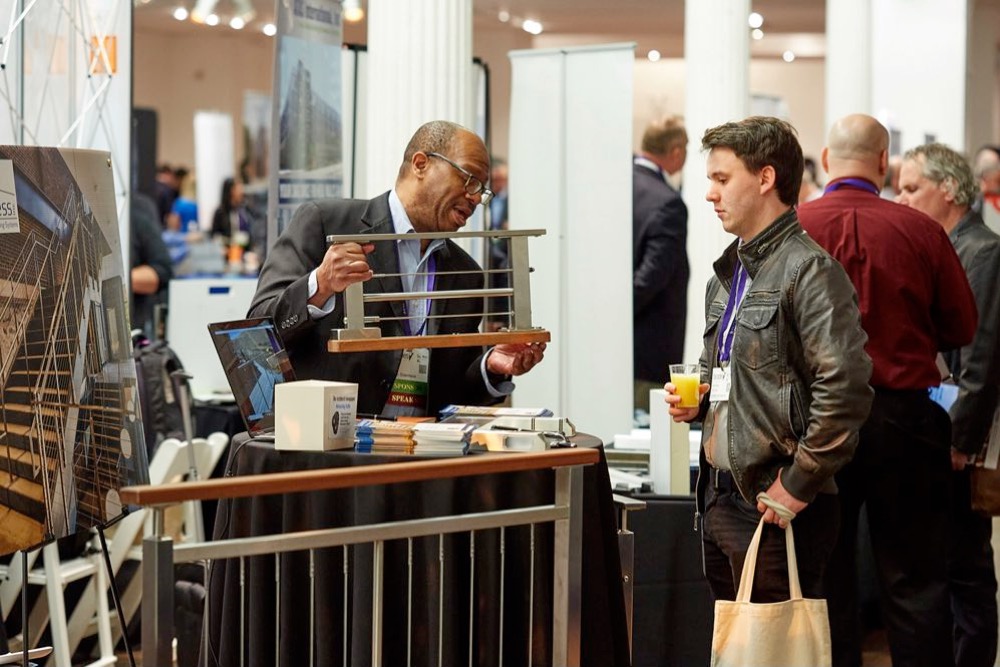 DAY 2
Online via Zoom
Workshops
Held virtually on Zoom, participants will engage with the industry's leading design professionals in an intimate, virtual seminar-style setting. Attendees will be encouraged to join in the workshop by sharing their audio and video. Select between three tracks for the day: Envelope Detailing, Sustainability, or Adaptive Reuse.
Pick one of the following tracks and earn up to 7 AIA HSW LU.
AGENDA
8:45 AM - 9:00 AM ET
- Virtual Doors Open
9:00 AM - 9:05 AM ET
- Welcome
POWERED BY

Credit type: 1 AIA LU
Provider: Agrob Butchal
Instructor: Bradley Saint-Laurent, Building Facade Material Specialist, Cladding Concepts International
This course provides an overview of the properties of photocatalytic ceramic tiles including the science, health benefits and applications.
Learning Objectives
Summarize the chemical process of photocatalytic oxidation and state how this process contributes to keeping surfaces clean and microbe free.
List the properties of PCOs and the environmental and economic factors associated with each property.
Explain how photocatalytic oxidation contributes to enhanced air quality in terms of odor and VOC decomposition, and NOx removal.
Identify the applications and environmental benefits of using PCOs in order to specify them for appropriate projects.
AGENDA
Most facades and enclosures perform well in the center of the system, failures typically occur where systems meet, at penetration and projections and at geometry changes. This workshop will begin with a primer on critical detailing concerns with our group of enclosure experts and then will transition to hands and collaborative design charrette including the panelists and the Workshop participants. This represents an evolution of the successful Advanced Detailing Workshop presented last year at Facades+ New York to focus on more contemporary and challenging details.
INSTRUCTORS
Chris O'Hara, Studio NYL
Will Babbington, Studio NYL
Bradford Prestbo, Place Tailor
Stan Su, Morphosis
Projects within the Sports, Entertainment and Aviation sectors are growing in budget, scale and complexity with novel design visions that aim to deliver unparalleled user experiences. Simultaneously, the teams needed to implement these heroic endeavors are becoming increasingly large and diverse. Delivering success on these projects requires new modes of collaboration, and acceptance of responsibility and risk not demanded of smaller and less ambitious projects. Through the lens of some of the most recent and iconic projects in these sectors, workshop attendees will get insight into how the enclosures of these complex projects are designed and realized.
INSTRUCTORS
Gustav Fagerstrom, Walter P Moore
Erik Verboon, Walter P Moore
Katherine Chan, Walter P Moore
Kais Al-Rawi, Walter P Moore
Dennis Chow, Enclos
Attendees of the workshop will work in teams of 4 or 5, guided by a rotation of 3 different instruction teams (each with members from PCPA, BuroEhring and Roschmann) to recalibrate key components of one iconic modern shelter or prefab home, selected from a choice of eight. To facilitate the activity, individual Rhino models of each shelter or prefab will be available during the workshop. The teams will identify and adjust key facade elements of the original designs to accommodate changes in context, contemporary energy standards, and ease of assembly.
INSTRUCTORS
Craig Copeland, Pelli Clarke Pelli
Holger Schulze-Ehring, Buro Ehring
Dirk Schulte, Roschmann
POWERED BY

Credit type: 1 HSW AIA
Provider: STI Firestop
Instructor: Eric Lacroix, Director, Strategic Accounts Construction
This course is designed to eliminate the confusion associated with the basics of perimeter fire containment systems. Fully understanding the role and value of tested perimeter fire barrier systems in today's ever-changing and complex designs cannot be overstated and understanding the unique challenges of these designs present are critical in the design phase to eliminate costly changes, delays, and compromised life safety requirements prior to construction.
Learning Objectives
Fully understand the basics of curtain walls and how they perform in a fire
Understand the development of the IBC and State building codes in North America regarding the requirements for perimeter fire barrier systems
Fully understand the impact of the ASTM E 2307 test standard on actual test that have been run. This easily documents the impact and severity of the new code requirement
Design for success: Understanding the basics of all non backpan perimeter fire containment tested system
To make understanding of curtain wall basics fun and easily understood
AGENDA
What limits us from heroic glass design? Are we sure that we have made good choices for all our glass? When does size and utilization of glass become so different to what we were using 20 years ago that the conventional rules of thumb no longer apply? How do we design to avoid disaster? Charles Berman, of Diller Scoffidio + Renfro, will present examples of the practice's use of glass to discuss architect's ambitions for glass in consideration of the realities introduced by glass as a robust engineered composite product. Richard Green will present developments embodied in drafting the ASTM Standard for Structural Use of Glass, which provides a framework for specification by architects and design by engineers to balance cost, risk and reliability with appropriately controlled post-damage outcomes. This session is a must for architects and engineers going beyond designing windows and utilizing the potential of glass.
INSTRUCTORS
Richard Green, Green Facades
Charles Berman, Diller Scoffidio + Renfro
New York City has recently adopted legislation that impacts energy efficient building construction, including Local Laws 97 (carbon), 92/94 (green and PV roofs), 95 (building labeling), and proposed Energy Code changes.This workshop explains the new legislation and its requirements, and the types of buildings which are subject to the legislation. It identifies how these laws affect building envelope – by itself and in interaction with HVAC systems – and discusses strategies for compliance.
INSTRUCTORS
Adrien Tuluca, Vidaris
Jennifer Sze​, RA, Vidaris
Michael Chen, PE, Vidaris
SOM will show some lessons learned from automatizing workflows to meet high energy and comfort requirements during different phases of complex enclosure projects. We will navigate on different metrics through conceptual stages (daylight studies, glare, pEUI) toward a more detailed performance criteria for final documentation (assembly values). The fact of connecting different platforms such as Diva, Archsim, Ladybug/honeybee, EnergyPlus, Therm and Fenestra Pro (BIM) brought us the opportunity to work on multidisciplinary teams of designers and software developers, such as Fenestra Pro, adapting some rates (NFRC) to their assembly analysis tools, as well as connecting with glass manufactures to visualize quickly the impact of coating decisions on the overall performance building. We want to open a discussion identifying the right metrics and tools to measure it to find a sustainable balance between performance and comfort. SOM and Fenestrapo will split the workshop on 2 parts one consists on slides presentation, and a second more focused on hands-on tools. Fenestra pro will extend trial versions to the audience for real time demonstrations.
INSTRUCTORS
Richard Aeck, SOM
Ruben Cabanillas Ramos, SOM
Simon Whelan, Fenestrapro
POWERED BY

Credit type: 1 AIA/CES HSW
Provider: Cosentino
Instructor: Brendan Mercier, National Facade Manager
Modern construction has come to understand that a façade, as part of an overall building envelope, is not only a visual statement, but also an important influencer in the protection of a wall's structural components, the energy efficiency of the building, and the health of its occupants. This course explores a unique surfacing material known as ultracompact surfacing (UCS) and evaluates its mechanical properties, technical characteristics, and aesthetics to illustrate its endless design potential in exterior cladding, façade, and rainscreen applications.
Learning Objectives
Define ultracompact surfacing and discuss the innovative production process that creates stone-like properties which contribute to project longevity and lower maintenance
Discuss designing with ultracompact surfaces in terms of color, texture, format, general design flexibility, and various applications for both interior and exterior
Identify the traits and advantages of ultracompact surfaces in terms of strength, durability, UV resistance, absorption rates, abrasion resistance, and ASTM testing.
Discuss proper rainscreen design and installation using ultracompact surfacing material.
AGENDA
The conversation about facade design tends to revolve around the industrially produced "unitized exoskeletons" that are common to larger buildings. This workshop looks to develop a language around the design of facades for smaller structures. Facades for these structures, typically single-family residences, tend to blur the distinction between the underlying form and the facade. We will explore this distinction and expand upon it with a few case studies. The industry supporting the development and installation of these facades is also distinct from the larger conversation about facades in significant ways. By understanding this difference, we what to track what qualifies as innovation in the makeup of the "Residential Wall."
INSTRUCTORS
Nilay Oza, Oza Sabbeth
Peter Sabbeth, Oza Sabbeth
Existing building facades are becoming an endangered species, as buildings are required to adapt to the evolving programmatic, environmental and aesthetic needs of their occupants. The workshop will focus on how these building have address these needs through everything from a simple window replacement to a full enclosure re-clad. The workshop will be broken out into two parts. The first part will analyze various facade retrofit and re-clad projects within the city, the technical means to achieve them and lessons learned during construction. The second part will have the group break out into smaller teams and pick an existing building to retrofit or re-clad. Each group will work with the instructors to develop a design and key details for their "project", which will then be presented and discussed collectively.
INSTRUCTORS
Molly Forr, Surface Design Group
Benson Gillespie, Surface Design Group
With its beginning's traced to 7000BC, longevity, permeance and adaptability are words that come to mind when describing the benefits of stone, tile or clay masonry. Using a systems approach from the air barriers and back up wall to the screen itself, this program will explore the development of the modern screen wall system. The workshop segment will explore case studies of recently completed NYC projects where rainscreen technology was utilized. Attendees will be guided through the process of designing a screen wall by the architect and the application of the screen wall by the craftworkers.
INSTRUCTORS
Todd Poisson, BKSK
Alan Feltoon, IMI
Pat Conway, IMI