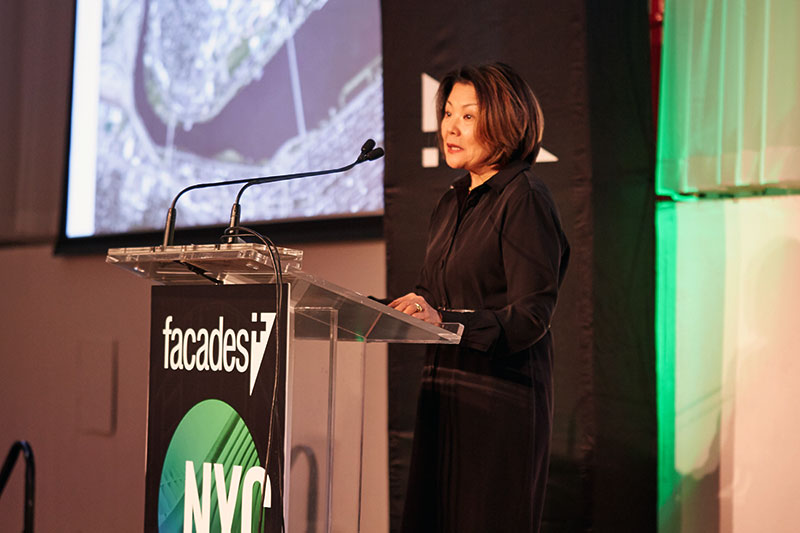 DAY 1
Attend a full day of stimulating presentations and panels that examines the fast-paced evolution of facade technology.
Address new perspectives on building skins, and explores innovative, sustainable design practices.
Earn up to 8 AIA HSW LU.
Check-in & Breakfast | Methods+Materials Gallery
Partner Welcome

Civic Perspective
Mic Patterson, co-founder of the Facade Tectonics Institute will kick off the day with his thoughts on the current state of the building enclosure design, AEC industry challenges, his predictions for the next decade, and his excitement for the world's first Building Envelope certificate program at USC's School of Architecture.
SPOTLIGHT

Classical Performance Through Modern Computation
The Dr Allen & Charlotte Ginsburg Human-Centered Computation Hall is the new, state-of-the-art home for the University of Southern California's Department of Computer Science. This seven-story, 116,000-square-foot complex serves as a living lab for sustainability and an incubator of innovative technologies to help solve global challenges.
The building exterior is a contemporary interpretation of the Italianate Romanesque style of USC's historic University Park Campus. Featuring a palette of brick and high-performance glazing, the façade responds to the differing environmental conditions and program elements on each orientation. The building's curtainwalls surround social and collaborative spaces, balancing solar gain, daylight, and views, while providing thermal buffer porches to the laboratories beyond. This allows the building to meet specific energy target goals and enhance occupant health and well-being.
Once complete, the project will become USC's first LEED Platinum-certified building and will inform the design and construction of campus facilities in the future.
Methods+Materials Gallery Break
PANEL

Drawdown: The Decarbonization and Optimization of the Building Envelope
It is a fact that new buildings in California must optimize their operational and embodied carbon. Hear these leaders discuss the challenges and opportunities as the AEC goes into the bold new future of NZE and a decarbonizing envelope design that puts energy first. Sandeep Ahuja, co-founder of covetool will discuss the opportunities in creating better tools and models and Shara Castillo (ZGF) and Jennifer Hoover (Hensel Phelps) will dive into the recently completed  California Air Resources Board's New Riverside HQ which is the largest true net-zero energy facility of its type.
Complimentary Networking Lunch | Methods+Materials Gallery Break
Partner Welcome

KEYNOTE

Context & Materiality: The Work of Mauricio Rocha
Award-winning architects Taller de Arquitectura Mauricio Rocha + Gabriela Carrillo have produced some of Mexico's most exciting buildings in the past decades. Learn about Mauricio Rocha's unique approach to design through some of the most material, textural, and inspired facades.
Methods+Materials Gallery Break
PANEL

Mass Timber in California: Climate Conscious Facades
Interest in Hybrid and Mass Timber Structures has taken off across the US, and Southern California has some of the most stunning examples to date. 843 Spring by LEVER Architects and Resnick Sustainability Resource Center at Caltech by Yazdani Studio & CannonDesign will be presented by their designers as they reveal all the details on these nearly complete projects.
SPOTLIGHT

Delegated Design: Realizing Google Bay View
Complex structures require intense and real-time coordination between designer, engineer, fabricator, and contractor. This complexity requires part of the process be managed by each party in new and novel ways to ensure the delivery of the final project. Join the team responsible for the Google Bay View and how they actually achieved such a complex building envelope and the unique problems they solved.
1:00 - 2:00 PM
- Workshop
2:00 - 3:00 PM
- Workshop
3:00 - 4:00 PM
- Workshop
4:00 - 5:00 PM
- Workshop