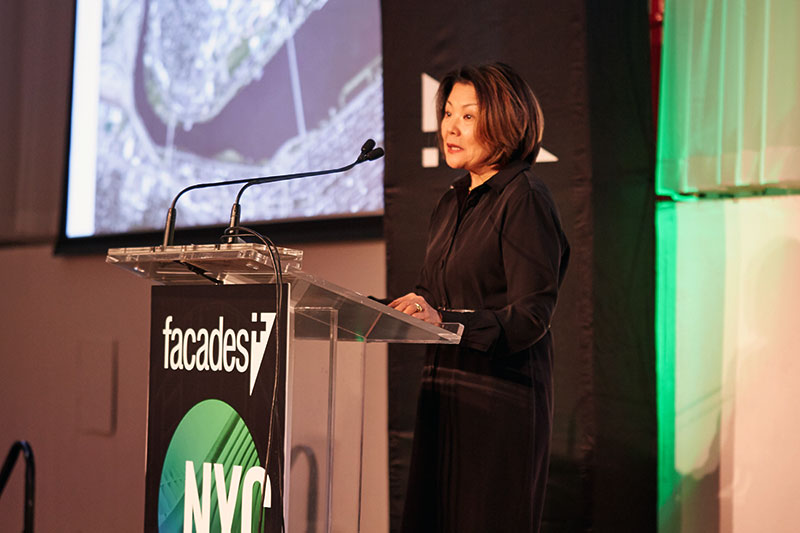 DAY 1
Attend a full day of stimulating presentations and panels that examines the fast-paced evolution of facade technology.
Address new perspectives on building skins, and explores innovative, sustainable design practices.
Earn up to 8 AIA HSW LU.
AGENDA
7:45 - 8:30 AM PT
- Check-in & Breakfast | Methods+Materials Gallery
Southern California is hot and sunny, and while those traits contribute to the city's image they do present challenges to occupant comfort and building performance. This panel will dive into growing building standards that address the warming climate and highlight best-practice methodologies for the incorporation of passive shading strategies for new buildings, all while maintaining those coveted sightlines. 
11:05 - 11:35 AM
- Methods+Materials Gallery Break
It is common knowledge among building industry professionals that building operations account for approximately 40% of global emissions. Since the founding of Architecture 2030, our industry has been highly successful at reducing building energy consumption and making buildings more operationally efficient. More importantly, we continue to make progress in the quest for net zero. Panelists will present and discuss a deep dive into how to reduce carbon in the design and operation of building enclosures.
12:45 - 1:30 PM
- Complimentary Networking Lunch | Methods+Materials Gallery Break
Advances in computational methods and the design-assist capabilities of manufacturers are lending themselves to ever-more bold facade designs. Masonry, ranging from precast concrete curtain wall modules to terra-cotta rainscreens, is one such facade material undergoing rapid innovation. This panel will highlight exemplary case studies clad in the latest and most captivating applications of masonry and opaque facades. 
3:45 - 4:15 PM
- Methods+Materials Gallery Break
Mid-Century icons across the country are approaching the end of their lifespans, and their renovation provides an opportunity to upgrade outdated facade and vital building systems to conform with the performance demands of today. This panel will explore two deep retrofits and the reuse of mid-century modern buildings. These projects brought the buildings up to high performance standards and accommodated new programs while retaining the history and character of their original design intentions. We will take a close look at Paul Revere Williams-designed Pritzker Hall with CO Architects and KPFF and more.
Credit type: 1 HSW AIA
Provider: STI Firestop
This course is designed to eliminate the confusion associated with the basics of perimeter fire containment systems. Fully understanding the role and value of tested perimeter fire barrier systems in today's ever-changing and complex designs cannot be overstated and understanding the unique challenges of these designs present are critical in the design phase to eliminate costly changes, delays, and compromised life safety requirements prior to construction.
Learning Objectives
Fully understand the basics of curtain walls and how they perform in a fire
Understand the development of the IBC and State building codes in North America regarding the requirements for perimeter fire barrier systems
Fully understand the impact of the ASTM E 2307 test standard on actual test that have been run. This easily documents the impact and severity of the new code requirement
Design for success: Understanding the basics of all non backpan perimeter fire containment tested system
To make understanding of curtain wall basics fun and easily understood
Credit type: 1 AIA
Provider: Kururay
This presentation will focus on the need for security glazing to protect people and property from human attacks and severe weather. Laminated glass can provide intrusion resistance, as well as protection from flying glass that occurs after a bomb blast. Bullet resistant laminates are designed specifically to stop bullet penetration and fragmentation.  Industry standards for testing and specifying security glazing will be reviewed, including standards for physical attack, bomb blast, ballistics and wind-borne debris protection.
Learning Objectives
Recognize the growing concern for terrorist attacks, including shootings in schools.
Understand how laminated glass provides intrusion, blast, ballistics, and wind-borne debris protection.
Identify test standards and requirements for security applications.
Identify architectural applications where security glazing is required, including courthouses and embassies.
3:00 - 4:00 PM
- Workshop by Cosentino, TBA
Credit type: 1 AIA LU
Provider: Agrob Butchal
This course provides an overview of the properties of photocatalytic ceramic tiles including the science, health benefits and applications.
Learning Objectives
Summarize the chemical process of photocatalytic oxidation and state how this process contributes to keeping surfaces clean and microbe free.
List the properties of PCOs and the environmental and economic factors associated with each property.
Explain how photocatalytic oxidation contributes to enhanced air quality in terms of odor and VOC decomposition, and NOx removal.
Identify the applications and environmental benefits of using PCOs in order to specify them for appropriate projects.