To reduce solar exposure to the office space below, the outer shell is built of tinted Saint-Gobain Par- sol Grey panels treated with a high-perfor- mance sputter solar coating. (Matthew Marani/AN)
The neo-Georgian Tammany Hall located on the northeastern corner of Union Square has assumed multiple identities over the course of its nearly century-long existence: It has been the home of the notoriously corrupt Society of St. Tammany, a union headquarters, and a theater and film school. Now, BKSK Architects and BuroHappold Engineering are leading the conversion of the building into a contemporary office space, which will be topped by a bulbous glass dome ringed with terra-cotta panels.
Facade Manufacturer Eckelt-St. Gobain
Permasteelisa Gartner
ArchitectBKSK
Facade InstallerPermasteelisa Gartner
Facade ConsultantBuroHappold Engineering
Structural EngineerThornton Tomasetti
LocationNew York
Date of Completion2020
SystemCustom shell grid
ProductsSaint-Gobain Parsol Grey, SGG Cool-Lite Xtreme
The design of the glass dome derives from both international Georgian precedents as well as the historical origins of the Society of St. Tammany—named after renowned Lenape leader Chief Tamanend, whose clan's symbol was a turtle. According to BKSK partner Todd Poisson, the design team interpreted Chief Tamanend's tribal imagery "With a turtle shell-like dome rising from this neo-Georgian landmark building, reimagining its tepid hipped roof with a new steel, glass, and terra-cotta base supporting an undulating glass dome."
Austrian manufacturer Eckelt, a member of the Saint-Gobain group, produced the structurally glazed insulated glass units. To reduce solar exposure to the office space below, the outer shell is built of tinted Saint-Gobain Parsol Grey panels treated with a high-performance sputter solar coating. The second layer of the carapace, separated from the tinted panels by a layer of air space, is comprised of clear glass panels.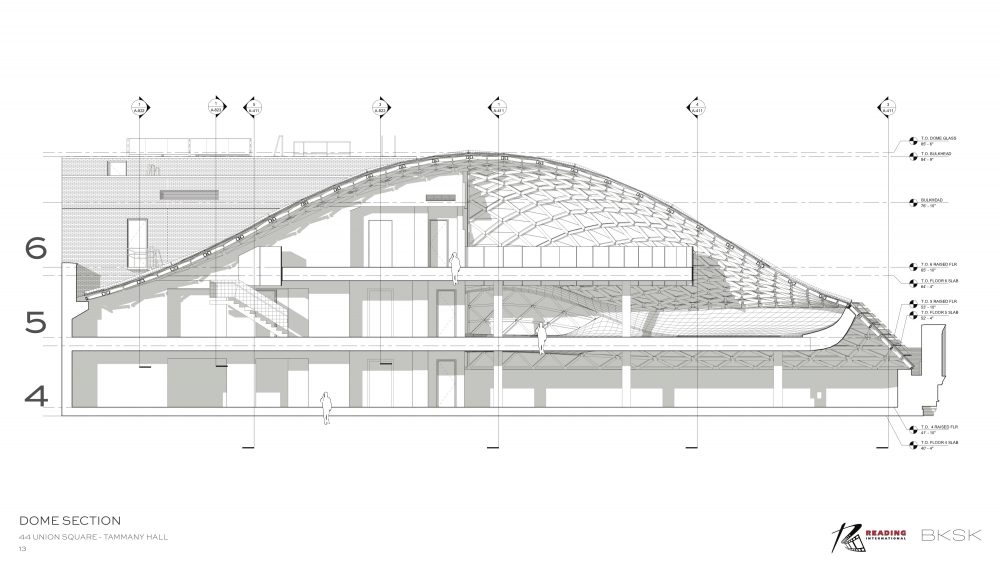 The roof, made of 850 isosceles triangular panels ranging from a 5- to 9-foot base, encompass a total surface area of approximately 12,000 square feet. Rising from the rear of the cornice line, the glass panels are fastened to an undulating steel free-form shell grid fabricated by Gartner.
To support the weight of the dome, and to facilitate the straightforward installation of structural members, the entire structural system of the historic building was replaced with a poured-in-place concrete core—effectively transforming the original load-bearing brick enclosure into a freestanding rain screen. The project is scheduled to wrap up in 2020.
BKSK partner Todd Poisson and BuroHappold Engineering associate principal John Ivanoff will present the Tamanny Hall project at Facades+ NYC on April 2 as part of the "Adaptive Reuse Challenges in NYC Historic Icons" panel.