The three other elevations are largely composed of low-fibre glass and fiber reinforced concrete (Jasmine Park/Courtesy of Morphosis Architects)
Architects Morphosis
Facade Contractors/Suppliers POSCO (Steel Curtain Wall), ALU EnC (Aluminum Curtain Wall), Korea Carbon (GFRP), Korea Tech-Wall (GFRC), Han Glass (Glass), Steel Life (Interior Liner)
Facade Consultants Arup, FACO
LocationSeoul, South Korea
Date of Completion2018
SystemBrise-soleil system on the main, west-facing facade
ProductsFiber reinforced polymer (FRP) using one of Kolon's own high-tech fabrics, Aramid
Magok is an emerging techno-industrial hub located on the outskirts of South Korea's capital, Seoul. In 2013, The Kolon Group–a multinational corporation and leading Korean textile manufacturer–approached Morphosis Architects for a new consolidated headquarters within the district. The goal? A wholly unique design capable of housing the conglomerate's diverse breadth of divisions while showcasing its array of manufactured products.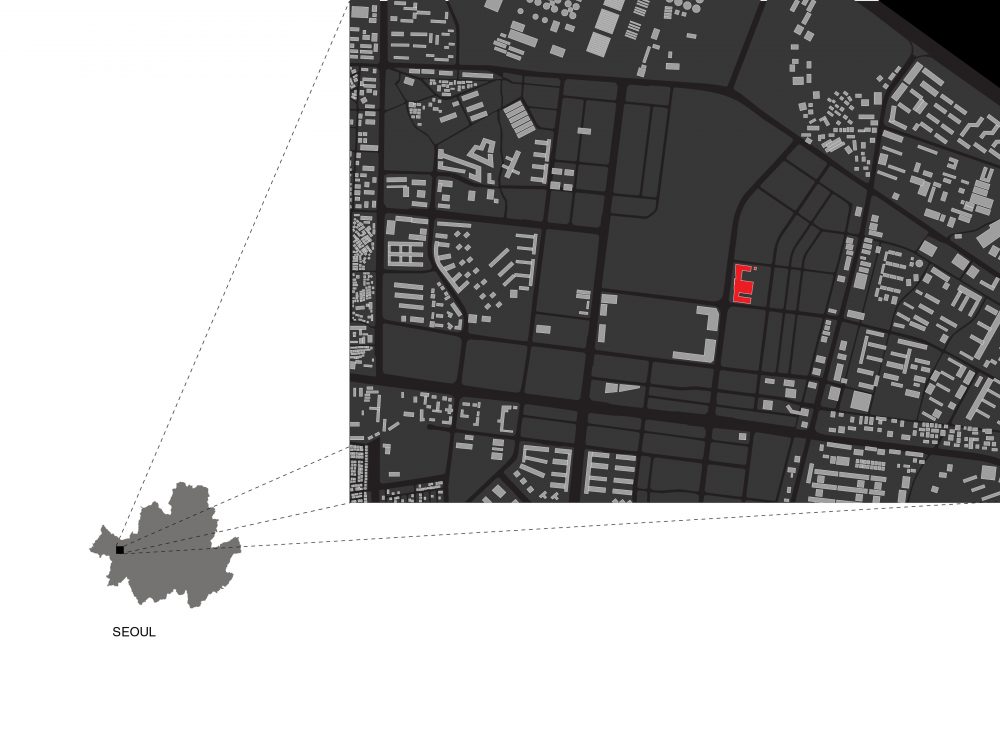 After half a decade of design and construction, the 820,000 square-foot Kolon One & Only Tower opened on August 23, 2018.
The project follows Founding Principal Thom Mayne's preference for hyper-engineered, non-traditional forms. Features such as sloped planes abutting contorted curtain walls, and yawning fissures, wave across the facade and interior.
Carbon fiber reinforced concrete piers, rising at acute and obtuse angles, are the primary compressive support for the structure.
The atrium is a vast space measuring approximately 140 feet tall and 330 feet long, providing inward and outward views. Dubbed "The Grand Stair" by the design team, the centrally placed path of movement is meant to serve as a quasi-public space and a facilitator of vertical and horizontal circulation. Morphosis has lined the entire height of the atrium with 400 fiber-reinforced polymer, 30-foot translucent panels produced by Kolon, which are fastened to the interior structure by stainless steel armatures.
The west-facing facade takes on a dramatic inflection that defines the structure's exterior. Morphosis describes the main facade as "an interconnected array of sunshades that form a monolithic, outer skin, analogous to woven fabric." The woven embellishment–featuring the Kolon-produced Aramid, a reinforced fibre with a greater tensile strength than iron–was designed parametrically to balance the interior's need for outward vistas and shading requirements. Stan Su, Director of Enclosure Design at Morphosis, views the sprawling sunscreen as carrying a "cloud-like plasticity in form while maintaining a remarkably high tensile strength."
Each knot of "woven fabric" is fastened to the curtainwall with traditional stainless steel brackets that knife through exterior joints to the steel mullions that ring the structure.
While the western elevation is the primary outward projection of the development, the entirety of the facility was designed holistically. Stan Su states that "the pared-back embellishment of the three other elevations is a response to their interior functions–lab and office blocks comprise what can be considered the rear of the building." The curtain wall wrapping these elevations largely consists of Han Glass's low-iron glass and ALU EnC produced aluminum cladding, a measure to match the clear view and visibility requirements of the client.
In a bid to secure LEED Gold Certification, Morphosis added a number of sustainable and envionmentally-friendly interventions; Kolon One & Only Tower is decked with a green roof, solar photovoltaic panels, and geothermal heating and cooling mechanisms. Additionally, Morphosis reduced concrete use by 30 percent through a bubble deck slab system which uses plastic balls as a form of reinforcement.
Further projects by Morphosis Architects will be discussed during Facades+ LA October 25-26