Bernard Zell Anshe Emet Day expansion, completed in 2019, is clad in light-beige brick and ribbons of glazing. (Steve Hall, Hall + Merrick Photographers)
Constructed in Chicago's Lake View neighborhood just a few blocks west of Lake Michigan, the expansion of the Bernard Zell Anshe Emet Day primary school cuts a fine figure. The project, completed in 2019 and designed by Chicago firm Wheeler Kearns Architects, features a veil of light-beige brick draped over a rectangular volume and studded with vertically-oriented ribbons of glazing.
The 32,000-square-foot project is an expansion of the preexisting Hebrew school and synagogue, one of the oldest in Chicago. Both have shared the same facilities since 1948 and were accessed through a rather drab entrance located on the parking lot. The expansion furthers the individual identity of both institutions and reorients the school towards a newly constructed plaza and loggia.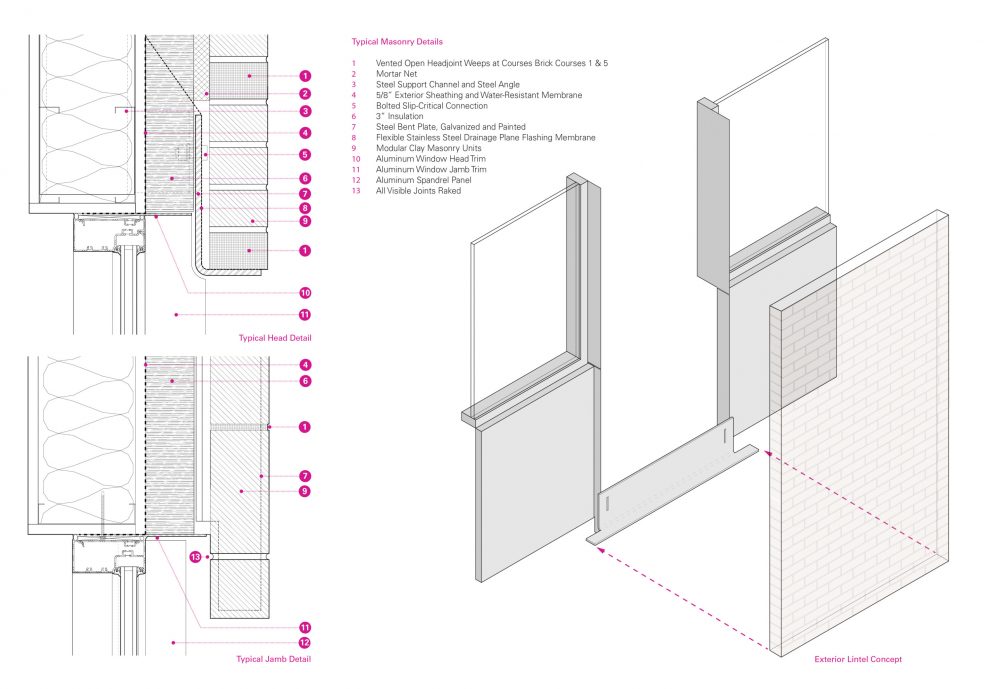 Facade ManufacturerBelden Brick
Summit Alaskan
Kawneer
Gateway Incorporated
ArchitectWheeler Kearns Architects
Structural EngineerThornton Tomasetti
Facade InstallerJ&E Duff
Bulley and Andrews (general contractor)
LocationChicago
Date of Completion2019
SystemVersaglaze V451T
ProductsBelden Belcrest 650
Summit Alaskan
Outside of The Loop, Chicago's commercial core, and the towers of Lake Shore Drive, Chicago is largely a mid-rise city of rowhouses, tenements, and warehouses. While designed according to contemporaneous styles, many are bonded in their use of brick and masonry, and, at least for their non-street facing elevations, the eponymous and variegated Chicago Common Brick. This context, and the intent to express Jewish faith and heritage, informed the design of the building's fabric.
"Our challenge in this project was to take a heavy earthen material and render it as a light, delicate veil, evoking the Jewish tallit (prayer shawl) that creates for each person a sacred space for reflection, learning, and prayer," said the design team consisting of founding principal Dan Wheeler, and project architects Emily Ray and Noah Luken. "We considered the brick panels of the facade as part of the tzitzit (fringe) knotted at the corners of the tallit that remind us that we are unique in our own way and intertwined and tied together. In order to emphasize the thinness of the veil, we developed a series of exposed masonry jambs and headers, so that the single wythe of brick was visible both from interior and exterior."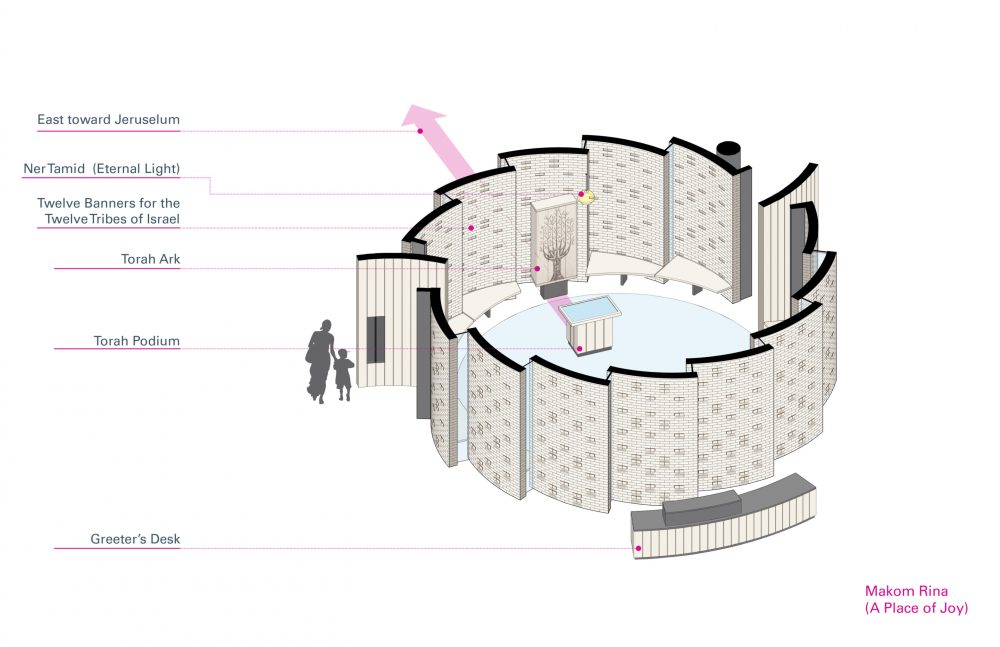 The result is a facade that provides the illusion of weightlessness; an effect that relied on close collaboration with the general contractor Bulley and Andrews and mason J&E Duff. Prior to construction, all of the exterior facade systems were fabricated as full-scale mockups, an exercise that allowed the installation team to test out installation methods and scheduling. For the most part, hand-laid brick rests on a system of carefully constructed steel ledges. There were, however, detailing moments of particular complexity, such as at the window jamb and masonry elevations set off from the floor slab or steel beams.
A circular sanctuary is located at the heart of the expansion and is enclosed with a similarly light-beige brick, arranged with a modulated pattern, which, following the lines of the intended and protruding bricks, resembles a series of Stars of David.