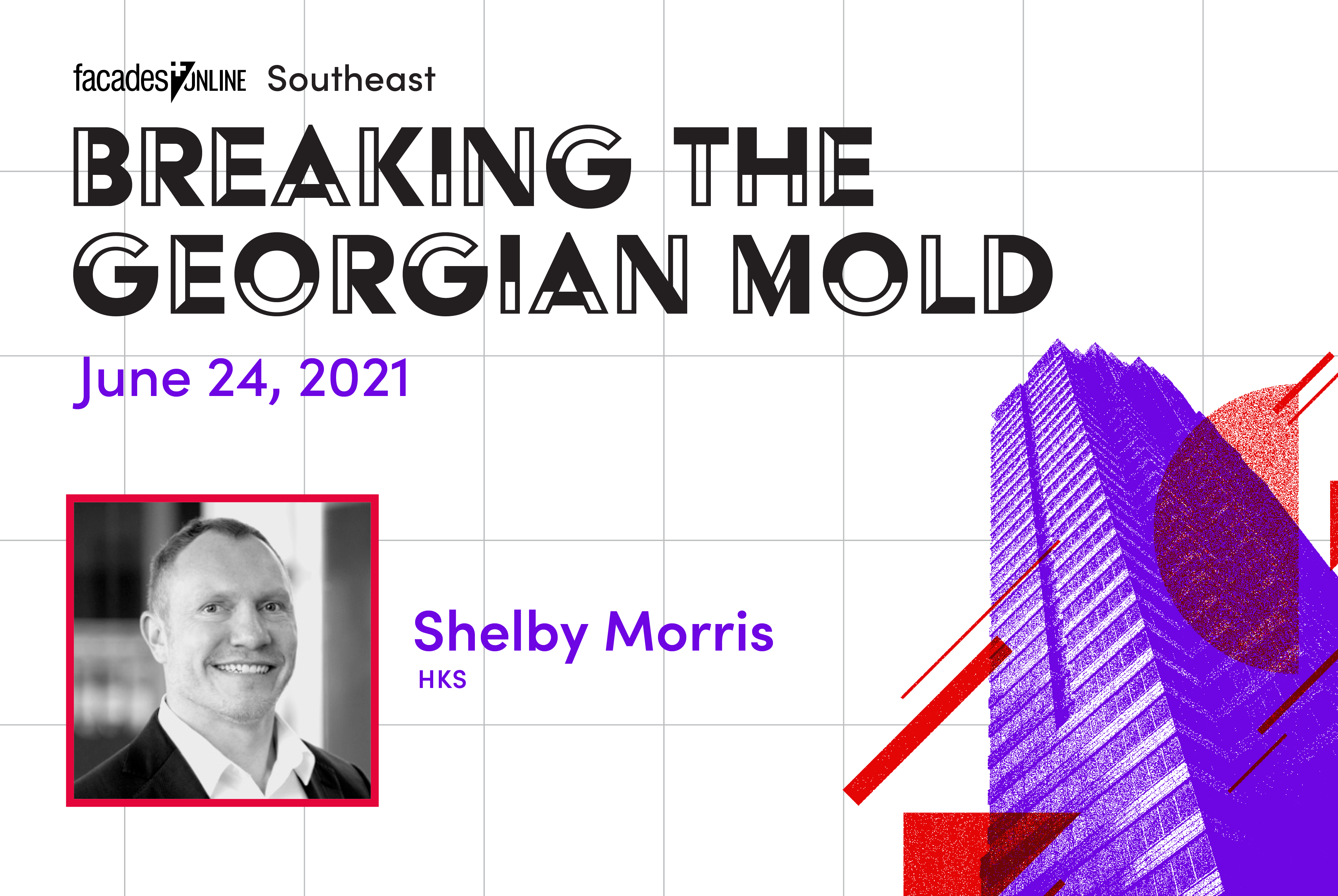 Facades+Southeast: Breaking the Georgian Mold, AN's first conference of the summer, will be grounded in the city of Atlanta and co-chaired by HKS Architects.
Although the Peach State will feature prominently within the virtual program, the conference's three panels will be relevant for the entire Southeast, and beyond. The topics respond to architecture's increasing responsibility to address environmental and cladding conditions, all while maintaining aesthetic standards for both the client and general public. Meet our co-chair Shelby Morris, director of commercial practice for the HKS Atlanta office, who shared some exciting touchstones for our upcoming event. 
AN: Given that HKS is also a global firm, what is your relationship to the built environment in Atlanta, and how does being a larger firm impact that?
Shelby Morris: Within the built environment of Atlanta, there are a lot of different levels of impact at different scales. Whether it's masterplans, buildings, or even interiors…we're implementing that influence. A good example from a few years back is our master plan for the westside of Atlanta called Quarry Yards that became Microsoft's new campus. Considering the attraction of top technology firms or top firms from around the nation, and their move to Atlanta shows how Atlanta is changing, and really how the region's changing. Within Atlanta, our main sectors are healthcare, commercial, mixed-use, and aviation. And really, we consider how all these projects impact the people, the community. For instance, we completed a Piedmont tower on right on Peachtree Street. For commercial mixed-use, we're working on a project with Olson Kundig, and others, called 760 Ralph McGill, that's right on the beltline – kind of the beachfront property of Atlanta if you would.
Our aviation practice is actively involved in the busiest airport in the world down at Hartsfield Jackson. But I think kind of the advantage of being with HKS is really the international practice, there are things that we're doing that are really best practices from around the world that we get a little insight on, you know, whether it's wellness and how to really affect people and bring that aspect into the design, or really smart cities, or even looking to what the rest of the world is doing with autonomous cars. It sounds really forward reaching for some of us, but it's being implemented around the world, and we're catching up a little bit. That's the kind of impact HKS has as a global practice.
What are you most excited about hearing at Facades+?
You know, the southeast is [undergoing] a transformation now. We're becoming very national, international, and taking that next step of evolution within the southeast. And so with that, what I'm most excited about is looking toward how the day will really tie together all aspects of this transformation. 
What excites me is technology in our industry, you know, how that is going to impact this region with tech giants that are moving from other areas, sometimes internationally, to here. It's going to bring people, it's going to bring jobs, it's going to bring different aspects of thinking, but then where does the rubber really meet the road? How do you take technology and put it into buildings and put it into infrastructure and put it into things that you know aren't really out there yet? HKS is on the cutting edge of that and some of our institutions, specifically Georgia Tech, are also pushing that envelope. So we're going to hear some of that and how that's being implemented into buildings that we're designing every day.
You know, and then just thinking beyond just the last year, and what all of us went through, what is life after COVID? How do you take this kind of this way of healthy living, wellness, and aspects of that and tie it into design? Make it better, make it more innovative, include more daylight and healthier breathing? And also keeping it community-focused? We're gonna hear a lot of that at Facades+ Southeast.
This is the first Facades+ in the Southeast to be held virtually for the first time, what power do you think technology has to illuminate these conversations, especially in a year when we all may be a bit digitally exhausted?  
Shelby: Yeah, another great question, another tough one, because I think all of us get a little zoom exhaustion, but the power of the virtual is really exponential; you can really connect to the broader scheme. And then it's not just a Southeast conversation, it's a national or even international conversation with the connections that are there. Beyond just that with in-person events, it's a one-off thing, it's something that can't go on and can't be repeated, you can't go back to. But this kind of format really allows for follow-up, for connection, for articles to be written. And in a sense, it goes into a database, whereas previously, that was kind of said and done. I think there's an art to it and it's more accessible to everybody, which I think is really critical, not just to the southeast, but to everyone wanting to be included in these conversations.