The project is four stories tall, and rises from a concrete bed. The second through fourth stories use CLT-and-concrete hybrid floor plates. (Courtesy Leers Weinzapfel Associates)
Mass timber projects are sprouting up across the United States. From the Pacific Northwest and to the Southeast, timber buildings are growing in scale and complexity. Designed by Boston-based firm Leers Weinzapfel Associates (LWA), the John W. Olver Design Building at the University of Massachusetts Amherst, is an examplar of that trend with a cross-laminated timber (CLT) floorplate and glulam frame clad with a facade of copper-anodized aluminum panels.
LWA is on something of a tear when it comes to mass timber. In May, the firm won an AIA Top Ten COTE Award for its work on the John W. Olver Design Building, and the firm's University of Arkansas Adohi Hall currently holds the title for the largest CLT building in the United States.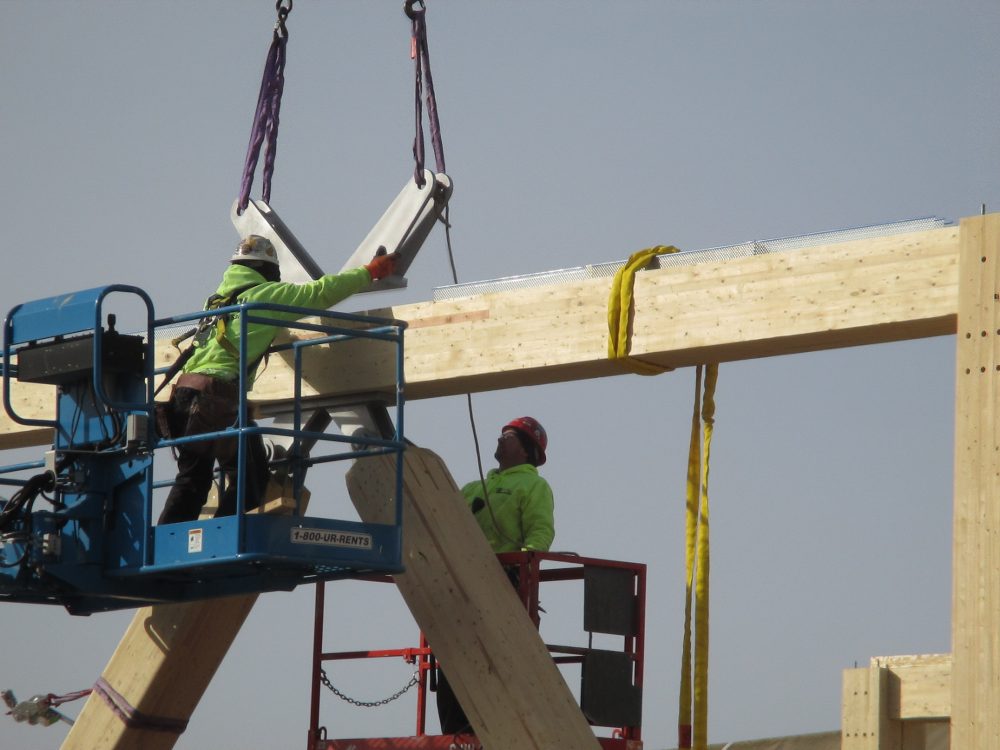 Facade ManufacturerNordic Structures
Kawneer
Dri-Design
ArchitectLeers Weinzapfel Associates
Structural EngineerEquilibrium Consulting
Simpson Gumpertz & Heger (engineer of record)
Facade InstallerSuffolk Construction
LocationAmherst, MA
Date of Completion2018
SystemKawneer 1600 Wall System
ProductsDri-design Copper-Anodized Aluminum Panel
Nordic Structures cross-laminated timber and glulam
The 87,500-square-foot building rises from a concrete slab base to a height of four stories and is composed of three rectangular volumes centered on an expansive atrium. "The massing is program- and site-driven, and, therefore, structural materials that make the best sense to achieve the massing are used," said LWA Principal Tom Chung.
The primary structural system, produced by Quebec's Nordic Structures and engineered by Equilibrium Consulting and Simpson Gumpertz & Heger, is built of exposed glulam columns and beams, which are supplemented at cantilevers and transfer beams with steel framing. A hybrid approach is similarly applied to the floor plate where the CLT panels are outfitted with perforated metal strips that bond to a top layer of four-inch-thick concrete. The purpose of mixing materials is to blend the tensile strength of timber with the compressive of concrete. Lateral loads at the building's corners are addressed with CLT shear wall cores and glulam bracing.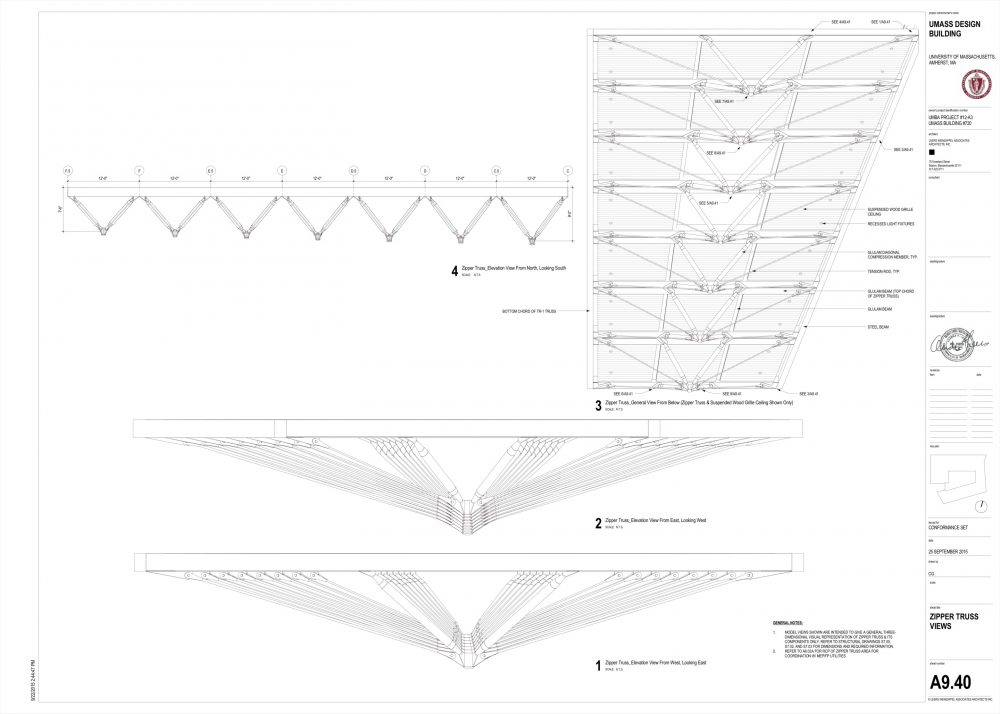 The pièce de résistance of LWA's design is found at the ground floor atrium where there are seven exposed 12-foot wide and 35-to-60-foot long "zipper trusses" composed of glulam compression members bonded with cast end connections, connection plates, and tension rods.
"A series of sculptural, three-dimensional trusses span the building's largest space using the material efficiency of a truss geometry while composite CLT panels span between the trusses to provide the necessary support for the enclosed roof garden and its intensive green roof with up to 18 inches of soil and New England snowdrift loading conditions," Chung said.
For the facade cladding, LWA responded to the client's demands for a relatively maintenance-free system that complemented adjacent brick buildings by choosing copper-anodized aluminum panels produced by Dri-Design. A vertically oriented strip of operable glazing is located within each facade module, but their placement in that module varies in a syncopated rhythm across the skin. The semi-opaque facade breaks at the southwestern corner of the project at the entrance, where the building opens with fully glazed bookends revealing the X-framed steel structure within.