The waveform edges of each concrete slab will eventually support the building's distinct facade. (Photo by Pavarini McGovern)
In an age where healthcare design is rapidly embracing new technologies and research to maximize patient care and comfort, the University of Cincinnati's Gardner Neuroscience Institute stands out with its attention to detail for the specialized needs of the patients and healthcare workers who use the space. The outpatient facility, chosen as AN's 2019 Best of Healthcare Design winner, was designed to consolidate 15 specialty centers for treating patients suffering from neurological diseases while accommodating 125 faculty members in one gateway space for the medical campus. Perkins&Will, based in Chicago only a short drive away, was able to translate these needs into a design that considered the patient from the inside out.
Facade ManufacturerFabricca
ArchitectSkidmore, Owings & Merrill
Structural Engineer

Skidmore, Owings & Merrill

Facade InstallerFront Inc.
Facade Contractor

Pavarini Mcgovern

LocationNew York, NY
Date of CompletionJanuary 5, 2021
Systemglass curtain wall with granite framing
ProductsCurved glass panels by Fabricca
Granite quarried by A. Lacroix granite
Vladding by IDA Exterior Systems
The curtain wall is comprised of alternating curved and flat glass panels, designed to set the building apart from its flatly glazed neighbors. From the outside, the panels exhibit a dark, reflective tint that provides privacy for the guests while also maintaining visual consistency as the interior program shifts. On the other side, the geometry of the panels provides wider views of the west side of Manhattan. SOM worked closely with the facade consultant, Front Inc., as early as the bid process in order to deliver this exquisite design intent. With specific challenges arising from the convex and concave floor plans, SOM's engineering and design team collaborated closely with both the fabrication team at Fabbrica and the construction manager. Fabbrica was able to manufacture panels that registered as consistent in color, despite the changing opacities from floor to floor. Due to the technical fabrication limitations of high-performance surface coating, the team worked together to arrive at the deep shade of blue-black for the substrate glass as a solution.
Each curved insulated panel varies in overall dimension, but have only three different bending radii. The tight enclosure radii span approximately five feet each (see the diagram below) and required particular attention to detail when fabricated. "We solved this with enhanced QA/QC [quality assurance] measures and by selecting the best fabrication methodology and suppliers," says Ingrid Pu, Technical Design Associate at SOM.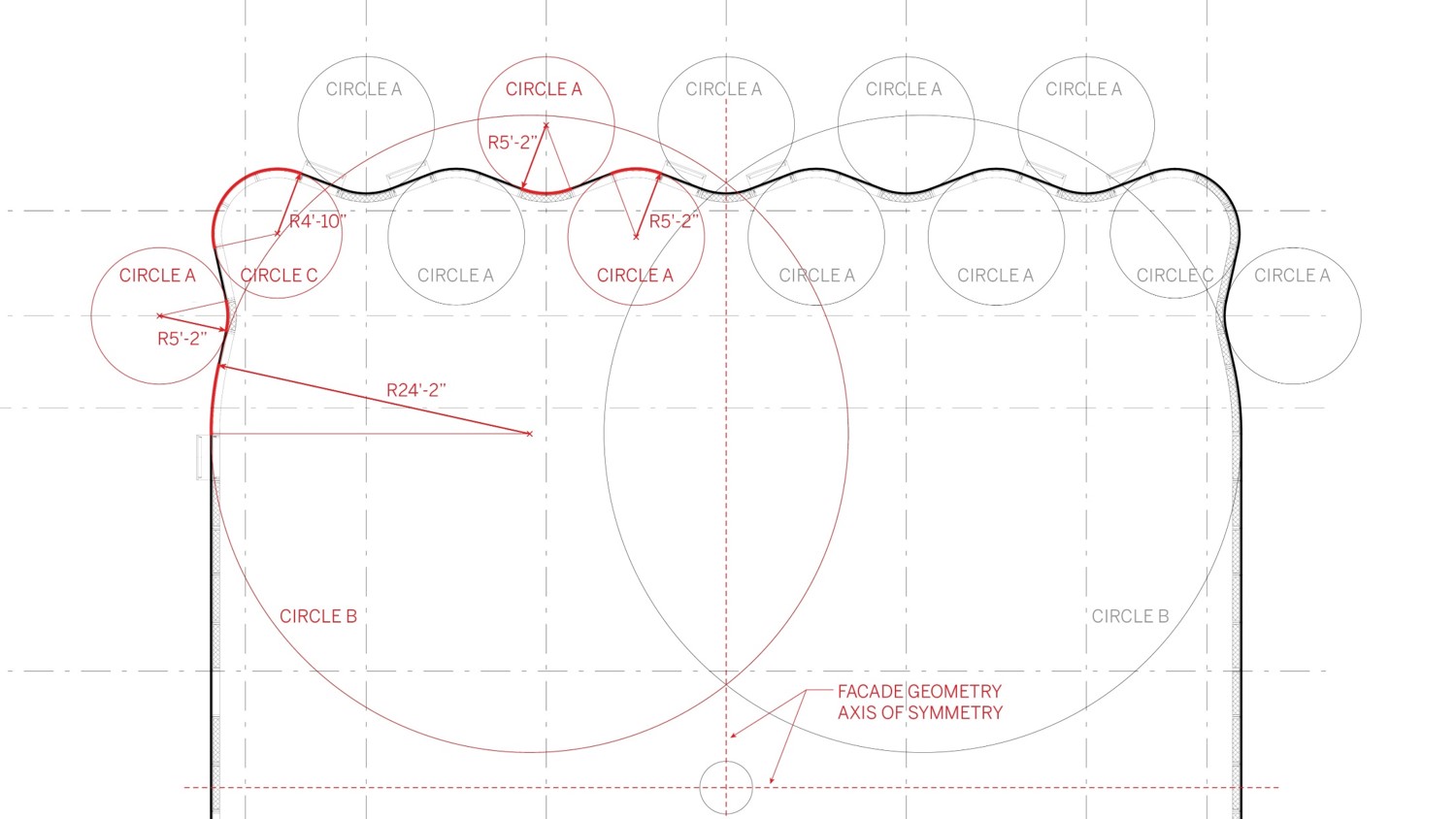 The granite stone was quarried by A. Lacroix Granit and framed into each curtain wall unit right in Fabbrica's shop. All of the curved glazing on the tower was structurally siliconed to a unitized aluminum glass assembly hung off the building's wavy concrete slab.