The Commons sits at the heart of Tulane's campus, and the building seems to shimmer as pedestrians walk by on leafy pathways that surround it. (Courtesy Tulane University-PBURCH)
For The Commons, Tulane University's new campus hub, WEISS/MANFREDI designed a glass facade that avoids clichés despite using some conventional materials. The angular, building shimmers in the New Orleans light, its mirrored surface broken up by chunky stripes and iridescent hues. It's hardly a typical glass box, but the building's distinctive look belies its use of a humble material: clear glass.
The designers opted to use cheaper clear glass instead of more expensive low-iron glass, which is widely favored because it lacks clear glass's characteristic greenish-blue tint. Instead, the architects embraced this verdant color, using it to create a subtly complex palette that plays off surrounding live oak trees and nods to the nickname of Tulane's sports teams, the Green Wave.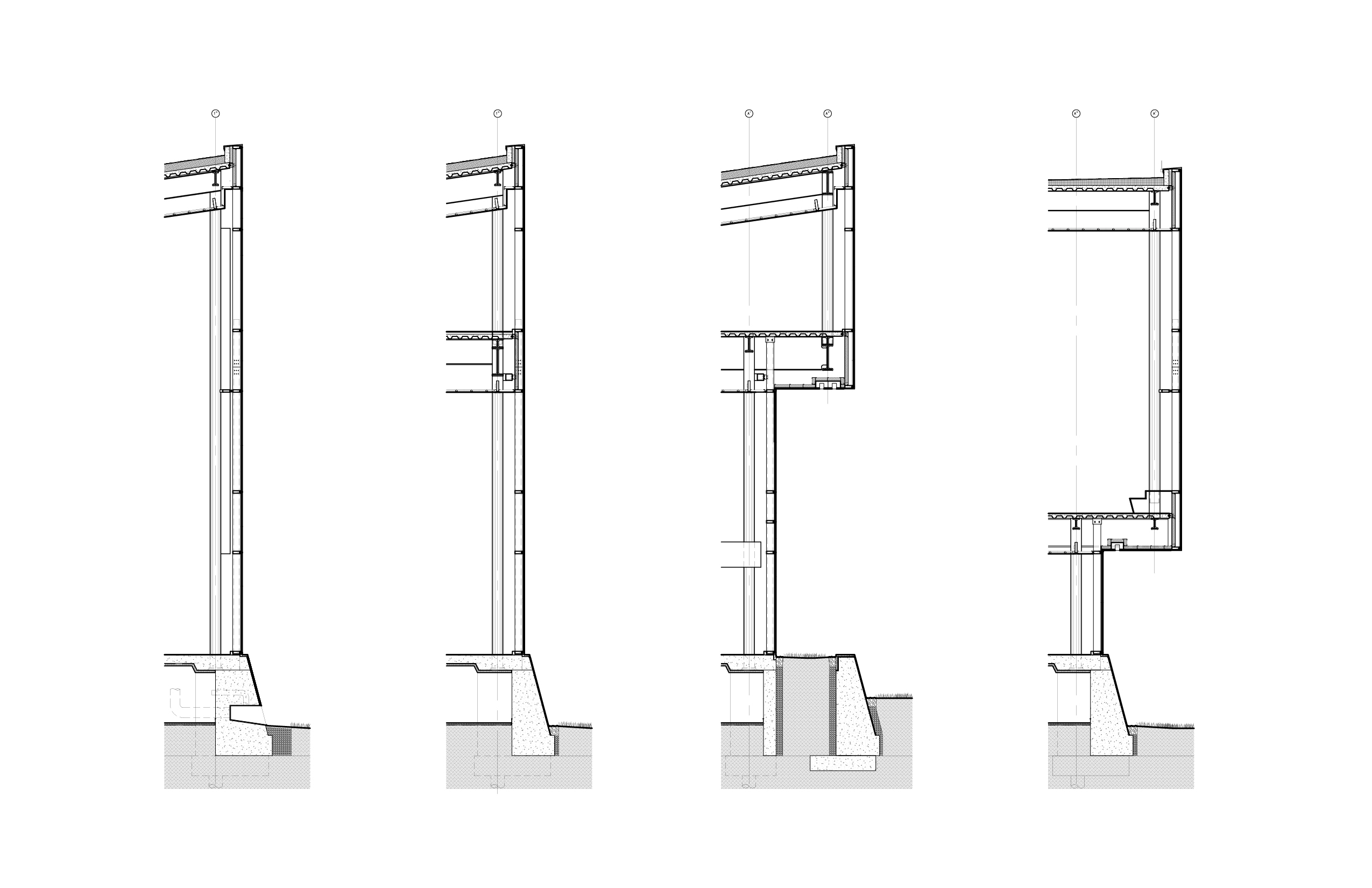 Facade ManufacturerYKK
Viracon
ArchitectsWEISS/MANFREDI
Waggonner & Ball
Facade Installer Zinsel Glass
Facade Consultants
Heintges Consulting Architects & Engineers
Structural Engineer
Severud Associates
LocationNew Orleans
Date of Completion2019
System YKK AP America YHC
300 SSG Cassette
ProductsViracon Velour clear glass with Velour etch and VE-85 coating
Viracon clear glass with VE-85 coating and Sentryglas PVB interlayer
Viracon Optiwhite glass with Sentryglas PVB interlayer
"In a way, clear glass has more life than low-iron glass," said Andrew Ruggles, the project's lead at WEISS/MANFREDI. "It has an aqueous quality and a material presence that you do not get with low-iron glass."
Long bands of vision glass let students see out of the three-story building's 1,100-seat student dining hall on the first two floors and the top floor offices of the Newcomb Institute, an organization pursuing gender equity, while vertical stripes of acid-etched and ceramic-frit- ted glass cover the rest of the facade with a pinstripe skin. The overall effect is offbeat and high-impact—especially given the Commons' considerable constraints.
"We needed to address sun control, hurricane requirements, a tight schedule, and, most importantly, a very strategic budget, which led us to explore how we could utilize standard parts to create a non-standard envelope," Ruggles said.
By using pretested 4-foot-by-8-foot <a href="http://archpaper.com/tag/YKK">YKK</a> curtain wall units that had already been approved for New Orleans's hurricane-prone climate, the team was able to avoid expensive and time-consuming independent performance testing. A prefabricated, four-sided structural silicone glazing cassette system, chosen for its ability to span large distances without introducing obtrusive structural elements on the exterior, was also easier to quickly install in the heart of Tulane's active campus than a comparable system that would have been assembled on-site. The resulting building, which opened last year, is a testament to glass's underexplored aesthetic opportunities.